MLM On The Rise In South Korea
August 7, 2015
By Team Business For Home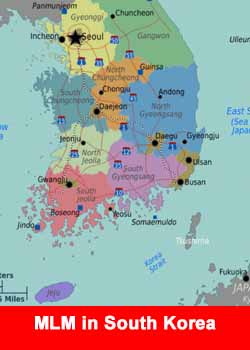 The number of multi-level marketing (MLM) firms operating in South Korea rose in the second quarter, the antitrust watchdog said Friday, as the government moves to better regulate such operators to prevent consumer damage.
According to the Fair Trade Commission (FTC), there were 132 MLMs in the country as of June 30, up seven from three months earlier. It said 11 new firms opened for business while four closed.
MLMs refer to companies where the sales personnel are not only compensated for selling products and services, but for the sales generated by the salespeople they recruit. Some companies have been discovered to exploit members and are viewed as illegal pyramid schemes.
The FTC said all new businesses signed consumer damage compensation contracts with official direct-selling mutual aid cooperatives. The agreements bind MLMs to conform to indemnity rules and prevent consumer damages.
The corporate regulator has been posting quarterly reports on MLMs since 2006 to better control the market, and alert consumers against possible problems regarding transactions.
The FTC said of the 132, GNGP and Pacos Korea have not renewed their consumer damage compensation contracts, and warned that consumers should be careful when conducting business with these companies.