Tim and Petya Edwards – Top Leaders Interview
August 13, 2015
By Team Business For Home
Tim Edwards and Petya Edwards from Dallas, Texas, USA have a refreshing approach with a focus on mentoring in the Network Marketing industry.
They say sponsors sign you up, uplines collect checks but mentors "work with YOU personally to help you make money.
Tim and Petya believe if you build people, the business takes care of itself. They also take a different approach to systems and have custom funnels built for their team that focus on attraction marketing.
So no complicated set up and they buy all the latest "how to" courses and teach their team for free. Recently the power couple moved to a new company.
Ted Nuyten had the honor to interview Petya and Tim Edwards,
Tim and Petya, why did you move to a new company?
Tim: "After starting and staying with an industry giant for almost 18 years you come out of that bubble believing companies doing things extremely well is the norm".
But after watching dozens of top leaders like ourselves on social media trying to pick the next billion dollar company I realized the odds are 10's of thousands to one because they all look good, sound good, and are well intended but the facts are everything has to be right and it's rarer than most believe.
Today, just like in my first program I caught a company on the verge of domination and I love being with a winner. It takes so much pressure off when you can just focus on what you do best, find or develop leaders. This time we're early enough and have the knowledge and skills to help a lot more people.
It's a real blessing we caught a company approaching a billion in sales, diversified in over 100 countries but it's still early because they're only 5 years old and the best part is they're barely a year old in the U.S.A.So it's the best of both worlds, rock solid but they still haven't hit momentum yet so there's huge opportunity for growth.
How did you get involved into the Network Marketing business? Who invited you?
I had a family member give me a video in 1992, I semi-retired in 2004 and then Petya and I were married in 2009 when Petya became intrigued with the business we decided to do something together.
What was your opinion about MLM before you got involved?
I was an open minded entrepreneur. so I had no reservations whatsoever. In fact with a business model that creates leverage without traditional business headaches. I fell in love with the concept instantly.
How did you transitioned to your current company, did a newbie sign you up ?
After speaking with several industry insiders who are "in the know" that all independently recommended the same company…so we knew we were on to something great. We did our homework, flew up and met the owners and planted our flag…permanently.
Team Leaders
| | | | |
| --- | --- | --- | --- |
| | | | |
| Angela Domet | Mindee Rosen | Tara Winsor | Téa Staegemann |
What is the secret of your success?
I learned in my first program which I spent over 17 years there that high levels of mentoring, targeted marketing plus a unique yet duplicatable system was the key. This is how I created the #1 recruiting team out of 1,000,000 reps in 50 countries with Nu Skin. So we will apply the same rock solid principles here. It's the best of both worlds, high tech and high touch all at the highest level and you don't have to leave your home or do meetings unless you want to.
Is personal development important for you?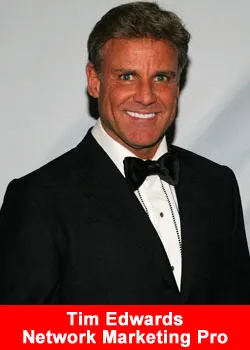 It's everything. Those who know better, do better. Nobody provides personal development and mentoring on the level we do. In fact we dedicate 1/3 of our training each week to personal development where we go through classic books like Think and Grow Rich on our Live Google Hangouts.
We open all our trainings and hangouts to anyone who wants to learn…and people love it!
Who are your mentors?
I didn't have one early on. About year 5 in my career I hit the top of Nu Skins pay plan and I ended up spending some time with a few legends like Richard Kall and Mark Yarnell. Richard and I are still great friends and talk often.
But not having any real help early on was a huge struggle but I thank God for it today it's what drives me to make sure nobody has to go through what I did to make it. We have a dream environment where anyone who is dedicated we can teach them to be a pro.
Contact details:
Tim's Facebook https://www.facebook.com/timmy.edwards.146
Petya's Facebook https://www.facebook.com/petya.edwards