ASEA Honored In Utah Business Magazine's Fast 50
September 11, 2015
By Team Business For Home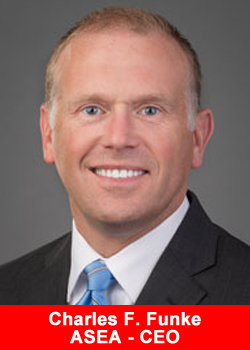 ASEA, an emerging global leader in cellular health, has been recognized by Utah Business magazine as the 12th fastest-growing company in the state of Utah.
The Fast 50 program highlights the 50 fastest-growing companies in Utah based on their entrepreneurial spirit, innovative business tactics and skyrocketing revenue growth.
We are honored that Utah Business has included ASEA on this year's list and recognizes our tremendous growth and commitment to the community, said Charles F. Funke, ASEA Chief Executive Officer. We are among many great businesses here in Utah, and this award is a direct result of our outstanding Associates and leaders.
Sustaining the momentum, this Fast 50 honor follows ASEA's recognition by Direct Selling News on its DSN Global 100, an exclusive ranking of the top global revenue-generating companies in direct selling. Additionally, ASEA was ranked 49th in Direct Selling News'North America 50, recognizing the most significant direct selling companies in North America.
In just five years, we have built a strong, sustainable business, both nationally and internationally. We look forward to ASEA's promising future, said Funke.
About ASEA®
ASEA, an emerging global leader in cellular health, is dedicated to providing a sustainable lifestyle by delivering high-quality cellular health products through a principle-based, direct-selling distribution model. Harnessing science, ASEA offers first-to-market products that utilize molecules native to the human body that enhance vital cellular functions. ASEA's cornerstone, patented redox signaling technology boosts the body's natural cellular renewal and communication processes, improving total body health and allowing every system of the body to function better. Currently, redox signaling technology is available in two first-to-market products: ASEA® Redox Supplement, the company's flagship liquid supplement, and RENU 28®, a revitalizing whole-body skin gel. Founded in 2010, ASEA currently operates in 25 international markets. For more information about ASEA products or the accompanying business opportunity, visit www.aseaglobal.com.