Malaysia's Sun Newspaper Profiles Gano Excel
September 10, 2015
By Team Business For Home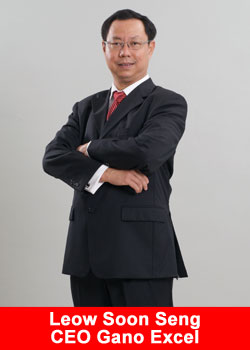 The Sun newspaper in Malaysia has profiled home grown wellness MLM company Gano Excel recognizing its achievements in today's paper, titled Two decades of Empowerment and Excellence.
FOR over 20 years, Gano Excel Industries Sdn Bhd has contributed relentlessly to the wellness industry both locally and globally. The company is known to harvest medicinal mushroom, Ganoderma Lucidumor Lingzhi, leveraging on its health benefits to develop supplements and beverages.
Gano Excel's humble beginnings started off with its founder, Leow Soon Seng, when he discovered the miracle herb in 1985 through his brother, a certified acupuncturist. Leow then began research on the herb and tried cultivating it in Malaysia with success after a period of trial and error over eight years.
DEFINING MOMENT
The ground-breaking encounter with the medicinal mushroom later prompted Leow to grow it on a larger scale with a vision to make it accessible to the public. Usually found in the wild, Ganoderma Lucidum takes about nine to 12 months to fully mature but thanks to modern organic technology, the mushroom can reach maturity in just three months.
Through the years, Gano Excel continued to innovate and progress via research and development (R&D) that has since created a huge demand for its products in South East Asia as well as the Western world. In 1997, the firm was the world's first company to produce a 100% water soluble Ganoderma extract which pioneered the production of Mycelium as a health supplement. Mycelium is part of the mushroom that resembles fine threads and has plenty of nutrients such as minerals, vitamins, polysaccharides and a host of enzymes.
EXCEEDING EXPECTATIONS
Not only that, Gano Excel has also developed the world's first instant Ganoderma coffee changing coffee as it were with a healthier alternative. Between 1999 and 2000, the company refined its production to yield top quality Ganoderma with a high health efficacy. This brought about new innovative products including iGarcina, iSakanno and the world's first personal care and skincare product infused with the benefits of the medicinal mushroom. iGarcina is the world's first Ganoderma Lucidum infused with Hydroxycitric Acid (HCA) derived from the tropical fruit Garcinia Atroviridis or Asam Gelugur in Bahasa Malaysia. Meanwhile, iSakanno is infused with Eurycoma Longifoloa Jack or better known as Tongkat Ali.
With a rapid market growth and demand for the products, Gano Excel has expanded its plantation in Kedah with world-class manufacturing equipment and R&D facilities with global pharmaceutical quality standards. Gano Excel also has over 100 greenhouses for Ganoderma plantation which ultimately makes it the world's largest Ganoderma producer. The firm's defining moment came in 2014 when they launched Luvuco, a healthy gourmet coffee capsule system with 100% water-soluble Ganoderma extract.
In 2003, Gano Excel became one of the first corporations specialising in Ganoderma to penetrate the United States and Latin America market.
Within a year, they were rated as the best newcomer in the Network Marketing Business Journal of America.
Having come a long way, Gano Excel has also acquired an eight-storey building in Bangkok and has operations in 22 countries across America, Middle East and Asia.