Total Life Changes National Director, Reginald Stinson Making $20k Monthly
September 17, 2015
By Nicole Dunkley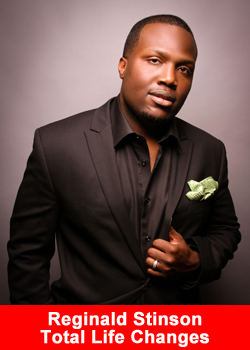 Total Life Changes newest National Director Reginald Stinson is a husband and father of three children currently living in the famed music capital city of the world, Nashville, Tennessee. Reginald was no stranger to the product line of Total Life Changes. He started using TLC's hero product, Iaso Tea™ years ago and was very pleased with the results, but did not consider the business opportunity because he was actively earning a comfortable income in a different MLM company.
Reginald had many business partners over the years that he worked with directly and indirectly. He maintained good relationships with many of them, which became trusted friends. He was watching many of his former business associates shift from a former company to Total Life Changes. He considered making a transition of his own and in March 2015 he called on his former partners and friends, Gregg and Lenika Scott, current Executive Ambassadors in Total Life Changes. "The timing for me to join TLC as a representative became right when I was transitioning from my previous company. It was a no-brainer because I'd already had an amazing experience using the Iaso Tea™, which helped me release close to thirty pounds in my first month on the product," says Reginald Stinson.
His first 48 hours in TLC were absolutely amazing and filled with excitement. This time it felt like the right fit. He struggled in former companies because he was unable to receive benefits from the products he was trying to promote. But in TLC, he already had his personal testimony from the products, so he knew it was just a matter of launching his business and that is exactly what he did, recruiting hundreds of people in his first week. Reginald has been building and maintaining his team for nearly six months and it is paying off as he now earns about $20k a month.
"I'm doing this so that my kids can have a better life than I had growing up. I grew up in mediocre neighborhoods within an inner city. My mother did the best she could as a single parent for my brother and I. It was frustrating as a kid. I wasn't able to wear brand name clothing and shoes because my mom couldn't afford it. And my wife and I got married at a very early age. She was eighteen and I was twenty. We didn't have a lot at all. All we had was each other and our faith in God. But I knew I had to do something different to set up my family for life. I knew that working for someone else wasn't going to do that. Being on food stamps, living paycheck-to-paycheck and getting cars repossessed on numerous occasions was no longer an option. I want to leave a legacy and an inheritance for my family instead of a pile of debt," stated Reginald.
Reginald also explained that he has had great results with Iaso™ NutraBurst, Chaga and Gano. Prior to using these products he felt restless and had difficulty sleeping. Most successful representatives of Total Life Changes have a similar product testimony and their results speak for themselves. "TLC is allowing me to share products that I know work and I'm having such a great time helping others get back on track to reshaping their health and their bank accounts," adds Reginald.
Many young entrepreneurs have joined Total Life Changes in the past 18 months and are ecstatic about the culture and climate of everyone from the top down. "I've never seen so such amazing leadership all under one place in any network marketing company. I feel like TLC is for the little guys and gals too. You don't have to be a major recruiter to make money here. In fact, you don't have to recruit at all. Our customer acquisition and retention is the strongest I've seen in the industry. Once people experience our products, most keep reordering month after month. I'm moving full-steam ahead and looking forward to reaching the Global Director rank before TLC's next major event during the first quarter of 2016, explains Reginald.
Having products that actually work and a lucrative compensation plan has led to tremendous growth across the United States. The social media surrounding Total Life Changes is full of positive affirmation of IBO's that are sharing the products and the opportunity in their homes, hotel conference rooms and live broadcasts on Google Hangouts and Periscope. There are numerous opportunity calls, accountability calls and leadership calls weekly as well. All of this exposure has led to thousands of new affiliates signing up week after week in the Unites States alone. Reginald hosts many calls weekly. One of his most popular calls is the Midday Prosperity Mindset Coaching Call.
Total Life Changes offers an amazing line of health and beauty products along with a great business opportunity. TLC was created by CEO Jack Fallon 15 years ago with a single product, Nutraburst, and has grown to include our Iaso™ brand of products like our popular Iaso™ Tea. Our hybrid binary system allows IBO's of TLC to quickly be compensated for introducing new reps to our products and business opportunity. The opportunity for you to feel healthier and flourish financially is what TLC is all about!