Zinzino Opens Canada – 13th Market
September 21, 2015
By Team Business For Home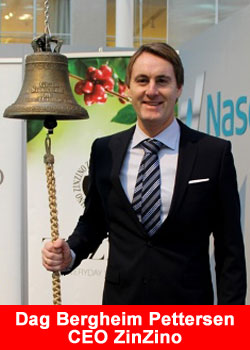 Swedish Zinzino continues to grow internationally with its establishment in Canada Zinzino AB (publ), one of the leading direct selling companies within functional food and coffee, continues to grow internationally. Canada becomes the 13th market Zinzino enters, and the expectations are high.
We have a high geographical establishment rate, which is in line with our expansion strategy. We have developed a model that allows us to quickly get started in the markets that we decide to go into, says Dag Bergheim Pettersen, CEO of Zinzino AB.
Zinzino, which was listed on the Nasdaq First North in December 2014, has placed great emphasis on ensuring the business is ready for continued expansion. Earlier in the year the company acquired Zinzino Faun Pharma AS and BioActive Foods AS, which means that it now controls the entire chain from research and development to production and analysis.
This has resulted in lower costs and greater control, which creates positive synergies throughout the entire chain up to the end consumer. On this basis, we are now able to create growth at the pace that we imagined, through geographical expansion and also by increasing the number of customers in each market in which we work.
In addition, we continue to develop the products we have and at the same time present really exciting new products, says Dag Bergheim Pettersen. Canada is a market that is a natural extension of Zinzino's establishment in the USA during 2014. In conjunction with the launch, Zinzino opened an administrative office in the USA.
The office will also be responsible for Canada, and thanks to the lessons learned from the launch in the USA, the company believes that the establishment will be relatively simple and
they will quickly be active and starting to sell their products. We are very excited to open in Canada during the autumn, we have plans to open on more markets, says Dag Bergheim
Pettersen.
About Zinzino
Zinzino AB is a leading direct sales company, represented in Sweden, Norway, Denmark, Finland, Iceland, Lithuania, Latvia, Estonia, Poland, the Netherlands and the USA. Zinzino markets and sells products in two product lines: Zinzino Health, with a focus on long-term health and Zinzino Coffee, comprising espresso machines, coffee, tea and accessories.
We offer customers products centered around quality, the environment, health and a feeling of everyday luxury. Our values are characterized by high quality, proximity to the customer and a focus on active product development.
The products are marketed through direct selling. Zinzino owns the Norwegian knowledge-based company BioActive Foods AS and the research and production unit Faun Pharma AS. Since 2005, Zinzino is the general agent for the Franco-Belgian coffeehouse Rombouts & Malongo. Today, the Zinzino Group has some 90 employees. The company has its head office in Gothenburg, Sweden, an office and a factory in Oslo, Norway, an office in Florida, USA, and and office in Helsinki, Finland.