Tyra Banks To Seek Investors For Direct Selling Startup
October 28, 2015
By Team Business For Home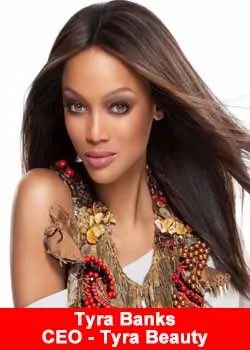 Su­per­model and talk-show host Tyra Banks will raise funds from out­side in­vestors next year for her self-funded cos­met­ics direct selling com­pany Tyra Beauty.
At the WSJDLive global tech­nol­ogy confer­ence, Ms. Banks dis­cussed her past fail­ures, in­clud­ing an ill-fated at­tempt to de­velop an app, and steps women can take to as­sert them­selves.
Every woman needs money to "have to be in con­trol of her fu­ture, con­trol of her present so she can make de­ci­sions," she said.
Ms. Banks' com­pany, Tyra Beauty, re­lies on in­de­pen­dent sell­ers who earn com­missions much like Avon Prod­ucts Inc. or Mary Kay Cos­met­ics Inc.
The com­pany is grow­ing, she said. That means she'll have to veer from her standard prac­tice of self-fund­ing her ven­tures.
She hasn't previously taken outside investment. Mine is a 100 percent entrepreneurial venture, no licensing, she told Allure last October. There's no person that's paying me. It's all 100 percent self-funded."

But this will likely change: "Based on our growth, I'm not going to be able to afford to carry it forever so we're going to be raising some money next year, she said at the conference.
Banks, a Harvard Business School graduate, hinted that she will make Tyra Beauty a higher priority; she has reached out to business executives, including Zappos CEO Tony Hsieh, for advice and will form a legitimate board for the company next year.