ViSalus' NEON Energy Drink Goes Global
January 27, 2016
By Team Business For Home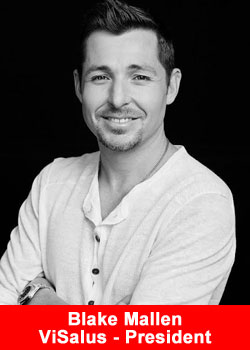 Energized by its commitment to provide the world with healthy on-the-go food and drink options, ViSalus announced the international distribution of NEON Energy Drink® at its EU Leadership Launch in London on January 16th.
NEON Energy Drink will now be available in all 12 Vi European countries – U.K., Ireland, France, Germany, Austria, Italy, the Netherlands, Spain, Sweden, Finland, Poland and Hungary.
Following its successful North American launch last year, Vi has already surpassed more than $5 million in sales of NEON Energy Drink throughout North America, making this product another successful component of the company's ever-expanding portfolio.
Advancing into the European market marks the next strategic phase in Vi's dedication to entering the fast-growing global energy drink industry, which has increased 620%, from $3.8 billion in 1999, to $27.5 billion in 20131. Additionally, 70% of global energy drink sales are outside the U.S.2
NEON has been a huge domestic success and now Europe can have the same access to the premium and top-shelf beverage changing the rapidly-growing, worldwide energy drink market," said Blake Mallen, Vi Co-Founder and President.

We've made an investment in a superior product so the entire global Vi community can light it up with great-tasting energy that lasts.
NEON Energy Drink contains a proprietary blend of 24% fruit juice from concentrate combined with effective and beneficial ingredients such as six health-promoting vitamins, green tea and caffeine from a natural source—for an energy boost that supports normal energy-yielding metabolism and the reduction of tiredness and fatigue.
Fun fact — this drink gets its name because of its fluorescent neon green glow when viewed under a black light, which occurs due to a naturally-occurring element from the South American Cinchona tree.
Having already sold over 2 million cans in North America, NEON Energy Drink has also been featured in the hands of countless celebrities, as well as in music videos alongside Snoop Dogg, Christina Milian, Chris Brown, Cal Scruby, and others. NEON Energy Drink was also the presenting sponsor of the Summer U.S. Tour of American Idol Winner, David Cook.
About ViSalus
ViSalus is a healthy lifestyle company committed to transforming life, health and prosperity around the world by creating meaningful connections, supporting physical transformations, and promoting entrepreneurial freedom. Through its flagship program, The Challenge, ViSalus has developed a leading platform for achieving weight-loss, health and fitness results.
With NEON Energy Drink®, Vi is quickly revolutionizing the booming energy drink market with a top-shelf option that fits into Vi's healthy lifestyle. Founded in 2005, ViSalus develops innovative weight-management products, functional foods, energy drinks and nutritional supplements that it markets and sells direct-to-consumers through an international sales force of independent Promoters.
ViSalus offers its products in North America under the ViSalus® brand and in Europe under the Vi™ brand. ViSalus is headquartered in Troy, Michigan, with offices in Los Angeles and throughout Europe. For more information about ViSalus, please visit Vi.com and follow the Vi-Community on Facebook (Facebook.com/Vi), Instagram and Twitter (@ViSalus).
[1] https://qz.com/192038/the-american-energy-drink-craze-in-two-highly-caffeinated-charts/
2 https://www.forbes.com/sites/greatspeculations/2014/05/08/energy-drinks-could-be-the-growth-driver-for-coca-cola-in-the-domestic-market/