Nerium Returns To St. Louis For Bi-Annual Conference
March 5, 2016
By Nicole Dunkley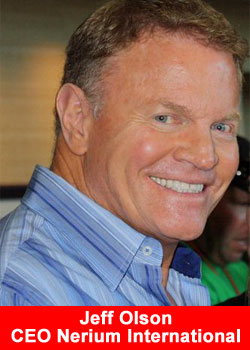 Nerium International, a leading relationship marketing company specializing in scientifically backed, age-defying products, is preparing to take the city of St. Louis by storm April 7-9.
Nerium's bi-annual Get Real Conference is known for attracting thousands of visitors to the host cities. Nerium is also famous for blanketing each city it visits in eye-catching signage designed by its award-winning Creative Services and Branding team.
Get Real was recently ranked as one of this year's most highly anticipated events by the St. Louis Business Journal.
Nerium is returning to The Dome at America's Center in St. Louis for the second time, after a wildly successful conference in April of 2014. The conference is expected to bring in hundreds of thousands of dollars in revenue to the city of St. Louis.
Thousands of Nerium Brand Partners will be flying in from all over the United States, Canada, Mexico and South Korea for three fun-filled days of networking and training.
The Show Me State loves a party and Nerium knows how to show their Brand Partners a good time. From the National Marketing Director Summit and formal Gala to the highly-anticipated closing party, this will be an unforgettable experience in one of the nation's most historic cities.
About Nerium International
Based in Addison, TX, Nerium International is a global relationship marketing company with Age-Defying products created in cutting-edge research and science. Founded in 2011, Nerium International has shattered industry records for sales while developing a strong customer base in both the North American and Asian markets. This unprecedented success has allowed Nerium to generate $1 billion in sales after just four years. Nerium was recognized for its historic growth by ranking No.1 on the 2015 Inc. 500 List of fastest-growing private US companies in consumer products and services and No. 40 on the 2015 Direct Selling News Global 100 List. Led by an executive team with more than 220 combined years of experience, Nerium International is committed to distributing an excellent product line based in real science and providing its Brand Partners with a life-changing and outstanding business opportunity through relationship marketing.