Young Living Adds Chief Of Staff To Executive Team
March 8, 2016
By Nicole Dunkley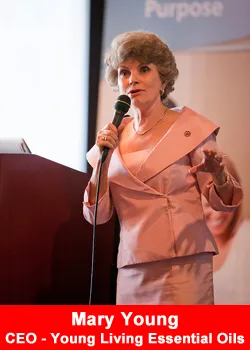 Young Living Essential Oils, LC, the largest essential oil company in the world, today announced the advancement of Kelly Case to Chief of Staff.
With more than 15 years at Young Living, Case is familiar with many areas of the business and is a trusted strategic consultant. In her new role, she will continue to provide support and be an advisor to the executive team, while playing a more prominent and visible role in the strategic day-to-day business.
"Kelly provides thoughtful guidance that has been respected and implemented in many situations," said Mary Young, Young Living Chief Executive Officer. "She has offered excellent insight and support for the executive team for many years."
"Kelly has an ability to bring balance into even the most difficult situations and offer fresh, intelligent perspective," said Young Living Chief Operating Officer, Jared Turner. "She is highly respected by the staff and members alike, and I am honored to have her officially join the executive team."
Case joined Young Living in 2000 as a member of the marketing department. She was then promoted to executive assistant to the founders, where she also supported various areas of the business.
About Young Living Essential Oils
Young Living Essential Oils, LC, is the world leader in essential oils with a strict Seed to Seal® process to produce pure essential oil products for every individual, family, and lifestyle. This process ensures that all products are genuine, free of synthetic chemicals, and pure. This commitment stems from the company's 20 years of stewardship toward the earth and its people.