Zija's Natural Health Revolution Ambassador Sandi Watkins
June 2, 2016
By Nicole Dunkley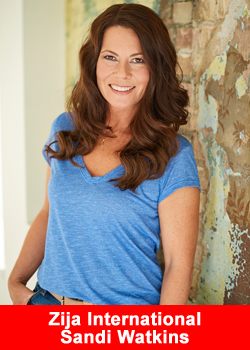 Zija International recently launched their Natural Health Revolution Ambassador program.
The company has been focusing on the timely importance of embracing the Natural Health Revolution—an encouragement to naturally nourish, naturally improve our performance, and naturally restore the body.
Zija chose a solid group of individuals and Distributors who truly embody the company's Life Unlimited culture and are uplifting representations of the Natural Health Revolution.
These ambassadors, who will serve in this role for up to 1 year, have received specialized training and will be holding meetings together in pairs in various markets across the country—promoting the importance of the Natural Health Revolution.
Hear from Sandi Watkins in her own words on why the Natural Health Revolution is so important and how Zija International is helping her live Life Unlimited:
"For the last 27 years I have been involved in network marketing. I have had five different opportunities, found success, and along the way I have gained experience and learned what to look for in an effective company.
I decided to find a final place to build my team and lay down roots—I found that place in Zija International. I found a home and company that wants to see everyone rewarded for their efforts, and where success is promoted on all fronts.
There are several things that I look for in a prosperous company: great leadership, amazing products, corporate support, a rewarding compensation plan, and a company that is there to serve people, not to get people; Zija embodies all of these things and truly want to better lives with the Natural Health Revolution.
I love the Natural Health Revolution because it's all encompassing. It's not only exciting for people's future financially, but especially for their health. Zija has such a strong track record in health and wellness—it's truly a one-stop shop in nutrition, and the company helps people financially with its great reputation in building successful businesses.
I'm looking at this Natural Health Revolution Ambassador program as something that will grow and allow the field to become stronger. I am asking people to join me in the Natural Health Revolution to have a better life physically and financially, to truly better themselves as individuals.
Zija is such a simple solution for people, it can and will bring phenomenal changes in people's lives. They can see that the products will take their health to a positive level. I really feel like the Natural Health Revolution is going to spread like wildfire and that it will create an addictive and epic culture.
I love that with the Zija opportunity I can help others become closer, tighter, and stronger with their family. It has allowed me to give value to people's lives and allow others to experience what I have with my family, which is being together more. This company targets everyone—it isn't a niche market—because EVERYONE wants the four pillars that Zija promotes and stands for: Health and Nutrition, Financial Freedom, Personal Development, and an Active Lifestyle. This opportunity is the opportunity for everyone!
I love the four pillars of Zija. It's wonderful to find a company that wants people to improve their lives and become better people. The company truly stands for and provides a Life Unlimited. The Life Unlimited opportunity allows me to have the future that I want—the healthy body, the money to support my family, and to give hope to people who feel trapped in a corporate lifestyle. Life Unlimited is not just about a product or money, and it's not a segregated way of thinking; it's a well-rounded mission to help people be the best they can be and win in all areas of their life. Zija and the Natural Health Revolution is a lifestyle that becomes you, one that you deserve, and one that you have been looking for!"
ABOUT ZIJA INTERNATIONAL
Zija International, a privately-held and privately-funded business founded by Kenneth E. Brailsford and led by Ryan Palmer, develops natural health, wellness, and beauty products. The company operates in more than 50 countries worldwide, pioneering the #NaturalHealthRevolution to help individuals achieve Life Unlimited.
Zija has seen consistent growth every year since it was founded over 9 years ago and has received several awards, including and being named the Fastest-Growing Company in Utah by Utah Business Magazine. It has also been recognized on fastest-growing and top-revenue lists by Inc. Magazine, Direct Selling News and Utah Valley Magazine, and has received industry-specific MarComm, American Business (Stevies), and Davey Awards.
With corporate offices located in Lehi and more than 4 million sq. ft. of state-of-the-art warehouse, shipping and manufacturing facilities located in Utah, United States, Zija International employs more than 200 individuals and has the capacity to grow to more than two billion dollars in annual sales.