Nerium Appoints Rafael Avendano Santos General Manager Of Nerium Mexico
August 4, 2016
By Nicole Dunkley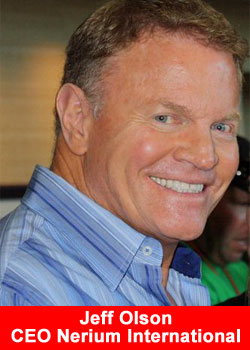 Founder and CEO Jeff Olson announced today the appointment of Rafael Avendano Santos as official General Manager of Nerium Mexico.
It is an absolute honor to see our Mexico operation reach its two-year anniversary as it continues to grow from Mexico City and Monterrey all across the country. I know we will see Mexico success and excitement surge as we welcome GM Rafael Avendano, an accomplished professional who shares the Nerium values and culture, to our Nerium Mexico family, said Founder and Chief Executive Officer Jeff Olson.
Since the company's August 2011 launch in the U.S., Nerium has created skincare products focused on science and clinically proven to produce real results. After breaking sales records while building millions of consumer fans in the U.S., Canada, Mexico and South Korea, Nerium launched its Japan opening in July as part of its Asia-Pacific expansion. Mexico was Nerium's third country opening in 2014.
We are committed to supporting our Nerium entrepreneurs throughout Mexico and I will ensure that our Brand Partners continue to receive the best products, tools, support, and training, said Mexico GM Rafael Avendano.
As Nerium's newest General Manager, Rafael Avendano has more than 20 years of multi-level marketing and direct sales industry experience, specializing in content development and implementation of training programs for countries throughout Latin America.
He is a sales team leader, training and technology expert, with customer relationship management expertise. Rafael earned an MBA at Thunderbird School of Global Management and bachelor's degree in industrial engineering at the prestigious Pontificia Universidad Javeriana in Bogotá Colombia.
About Nerium International
Nerium International is a global relationship marketing company with Age-Defying products created in cutting-edge research and science. Founded in 2011, Nerium has shattered industry records for sales while developing a strong customer base in North America, Latin America and Asia-Pacific markets.
This unprecedented success has allowed Nerium to generate $1 billion in cumulative sales after just four years. Nerium was recognized for its historic growth by ranking No.1 on the 2015 Inc. 500 List of fastest-growing private US companies in consumer products and services and No. 12 in overall, as well as No. 38 on the 2016 Direct Selling News' Global 100 List.
Led by an executive team with vast domestic and international experience, Nerium is committed to distributing an excellent product line based in real science and providing its Brand Partners with a life-changing and outstanding business opportunity through relationship marketing.