Jamberry Names Elizabeth Thibaudeau New CEO
October 13, 2016
By Nicole Dunkley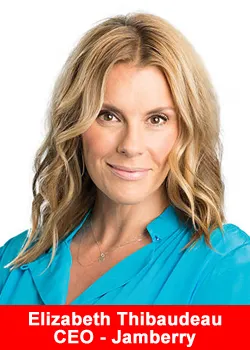 Nail products maker Jamberry has recently named Elizabeth Thibaudeau as its new CEO, the family-owned enterprise.
Thibaudeau has considerable experience in direct sales, having spent the past 20 years with one of the channel's leading skincare and nutrition companies.
Most recently, she held the position of Vice President, Global Marketing, overseeing all brand and marketing functions. There she also helped to develop a strategic product platform and umbrella category brand that has generated billions in revenue over the last decade.
At Jamberry, Thibaudeau succeeds Adam Hepworth, who has led the company from its inception and will remain a board member and major shareholder. Hepworth's wife, Christy, co-founded Jamberry in 2010 with her two sisters, Lyndsey Ekstrom and Keri Evans. Over the past six years, the company's sales network has grown to more than 100,000 Independent Consultants.
"Elizabeth's expertise, leadership, and experience building direct sales strategies will be an incredible asset to Jamberry as we continue executing on our long-term consultant-focused strategy," Hepworth said in the company's announcement. "We feel incredibly lucky to have found someone with this type of experience who naturally personifies our brand values."
Jamberry is known for its do-it-yourself nail wraps, which are applied using a heat and pressure technique. In addition to offering a wide range of original designs, the company has worked with the likes of Disney and the NFL to introduce special themed collections. This summer Utah-based Jamberry expanded into Mexico, adding to operations in the U.S., Canada, Puerto Rico, Australia and New Zealand, and the United Kingdom.
"I am passionate about the direct selling channel and believe in the power of social selling," said Thibaudeau. "I am convinced Jamberry is perfectly poised to build on its historical success with its innovative decorative nail wrap products promoted by our brilliant personal style experts."
About Jamberry
In 2010, a slow and expensive visit to a nail salon sparked the idea for sisters Lyndsey, Christy, and Keri to create a line of do-it-yourself nail wraps. Today, Jamberry is bringing you their creation: one-of-a-kind nail wraps that truly represent your signature style!
Jamberry nail wraps are made with durable materials, so smudges and streaks are never an issue, and can last for up to two weeks on fingernails and four weeks on toes. With over 300 nail wraps in an incredible variety of designs, you can customize, pair, and layer Jamberry nail wraps to create a look that's all your own—all from the comfort of your home.