Jeunesse Co-Founder Wendy Lewis Top Individual Stevie Award-Winner
November 29, 2016
By Team Business For Home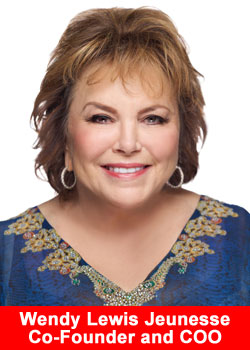 Jeunesse Co-founder and COO, Wendy Lewis has garnered six individual awards in the 13th annual Stevie Awards for Women in Business, making her the top individual award-winner among the more than 1,400 entries received, and earning Jeunesse one of just five Grand Stevie Awards conferred for the best overall body of entries in this year's competition.
The Stevie Awards for Women in Business is a premier international awards program honoring female executives, entrepreneurs, employees and their companies.
Winners were recently announced at a gala event in New York where Lewis and Jeunesse garnered a total of seven Stevie awards:
Best Body of Entries — Grand

Maverick of the Year — Gold

Female Entrepreneur of the Year — Business Products — Gold

Woman of the Year — Industry — Silver

Lifetime Achievement — Business — Silver

Female Executive of the Year — Consumer Products — Silver

Women Helping Women — Business — Bronze
Lewis acknowledged the accolades with the humility she's known for saying, "It is an honor to be recognized alongside so many talented women in this year's Stevie Awards for Women in Business. I am fortunate to be in a position to empower others and it is their success, I believe, that is the most meaningful measure of accomplishment."
A large degree of the success Jeunesse has enjoyed is due to Wendy's leadership overseeing daily company operations and her ability to empower others. Lewis co-founded Jeunesse in 2009 and has since helped the company reach the billion-dollar annual sales mark and rank on the Inc. 500/5000 list for the past three years. She is one of just three female founders of the top 25 direct selling companies in the world and has received 20 prestigious business awards over the past several years.
Learn more about Lewis' wins here.
About Jeunesse
Jeunesse is a global direct selling company with a mission to positively impact the world by helping people look and feel young, while empowering them to unleash their potential. The company's exclusive skin care and nutritional products form a comprehensive Youth Enhancement System.
With multilingual customer service, back office support and a global enrollment system, Jeunesse utilizes a cutting-edge platform to share innovative products, training and support through 32 fully operational offices to markets in over 130 countries. Learn more at jeunesseglobal.com.
[related_recommended_distributors]