Mannatech's CEO Awarded Business For Home's Turn Around Award 2016
December 3, 2016
By Team Business For Home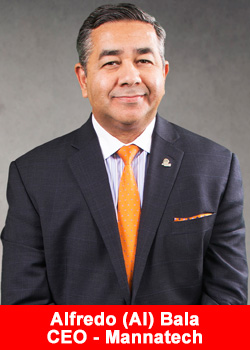 Business For Home is pleased to present its Turn Around Award for 2016 to Mannatech's CEO and President, Alfredo "Al" Bala.
This award is given each year to a CEO of a multi-level marketing company who demonstrates the ability to transform and turn a company around.
This year, Bala has won the award based on his ability to establish effective operations, implement solid management and increase production, in addition to the other operational factors leading to the transformation of an international direct sales business.
Bala, 56, is well known throughout the industry and at Mannatech for his passionate support of the company's sales Associates, and he has been a key contributor to bringing Mannatech back to profitability. He has 36 years of experience working in the direct sales industry, with 28 of those spent as a field sales leader.
"I am wholly focused on the success and care of our outstanding sales associates around the globe," said Bala.
"Mannatech is renowned for having the best, scientifically-validated technologies in the world, including our nutritional supplements, fat loss and skincare products. I have spent many years working as a sales Associate, and I have a unique perspective on how to best serve our sales teams.
It is my vision for Mannatech to have the top rewards, recognition, compliance, support, tools and training programs in the direct sales industry. I want our Associates to know that Mannatech has their backs and is 100 percent focused on helping them build safe, long-term global businesses.
"I am excited and proud to be the chief advocate for our Associates and help them make Mannatech's future great," said Bala.
Bala joined Mannatech in 2007 and rapidly increased his responsibilities at the company, ascending to the position of President in June of 2014.
Bala also played a crucial role in Mannatech's expansion into 15 countries since 2007, including South Africa, Mexico, Scandinavia, Spain and Colombia.
Al Bala and Ted Nuyten in Las Vegas – USA
About Mannatech
Mannatech, Incorporated, offers a profound wellness experience through a financially rewarding opportunity that makes a difference in the lives of people across the world. Through its innovative glyconutrition products, Mannatech transforms lives, providing an unprecedented level of natural wellness, freedom and purpose.
With more than 20 years of experience and operations in more than 25 countries, Mannatech is committed to transforming lives. For more information, visit Mannatech.com.