Romacio Fulcher – Wor(l)d GN Achieves Fastest USA President Millionaire Rank
December 8, 2016
By Team Business For Home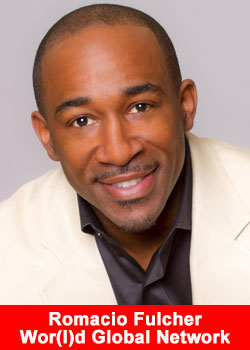 After achieving the rank of Double President his first week at Wor(l)d Global Network (a Double President brings in over $500,000 USD revenue in 1 week), Romacio Fulcher came back 2 weeks later and became the FASTEST person in the US to achieve the rank of President Millionaire and he did it in his third week with the company.
A President Millionaire brings in over $1,000,000 USD revenue to the company in 7 days and has an average monthly income of $250,000 USD.
Romacio is following the lead of Global Master Distributors Chanida and Nat Puranaputra, #14 on the Top 200 Worldwide MLM Earners list and the first Grand President Millionaires. Also, #1 US leaders/earners Chad and Nattida Chong, #38 on the Top 200 Worldwide MLM Earners list and the first US Double President Millionaires. He is extremely grateful for their combined mentorship and the example they are setting for what's possible.
Romacio attributes his explosive success to these 5 specific things: 1) right leadership, 2) timing and positioning of the company, 3) revolutionary product, 4) simple and lucrative compensation plan and 5) the system. He is excited to continue to help his team break personal records and is choosing 100 key people to work with to help them achieve their goals and dreams and fulfill his VISION of creating 100 millionaires within 3 years.
None of this success would be possible without the leadership, vision, and innovation of CEO Fabio Galdi. From his early days of Introducing one of the 1st Touch Screen LCD PC's in the market to now inventing revolutionary products and founding a company that has earned the coveted AAA+ opportunity rating.
Fabio is ranked in the top 10 of the 2016 Top Direct Selling CEOs worldwide and was named to the 2016 Ambassadors of Network Marketing Hall of Fame. These well-deserved accolades are the foundation that helped create the rapid success of Romacio, Chanida & Nat, Chad & Nattida and many others at Wor(l)d.
Although Romacio has earned millions in network marketing, his passion is in training and inspiring others to transform their lives and earn supplemental income along the way.
About WOR(l)D Network.
With an Headquarter in MIAMI, USA, WOR(l)D stands apart as a leader in the global markets of media, mobile and wearable technologies. In the 15 offices distrbuited in all the continents, WOR(l)D is employing the brightest minds and best professionals, constantly investing in great ideas and highly motivated people.
Every WOR(l)D product reflects its passion for research, innovation and environmental responsibility.
WOR(l)Dis a recognized as a leading player in the drive towards a more economically stable, socially connected world. Leveraging a new business paradigm, WOR(l)D seeks to transcend every social and economic boundary.
Using innovative products and a proven, direct selling business model wor(l)d is helping people around the globe to transform their lives—and their livelihoods. For more information please visit www.worldgn.com