ViSalus – Nick Sarnicola To Be Named CEO Succeeding Ryan Blair
December 26, 2016
By Team Business For Home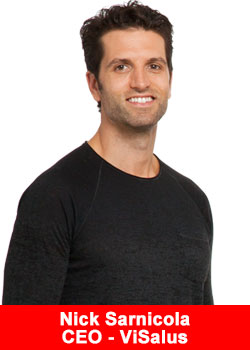 ViSalus, Inc. announced that Co-Founder and Global Ambassador, Nick Sarnicola, will become the new CEO of ViSalus as of January 1, 2017, succeeding longtime Co-Founder and current CEO, Ryan Blair, who will remain with the company in a new role.
Ryan Blair
Capping 12 years as CEO of ViSalus, Mr. Blair has led ViSalus virtually from its inception in 2005. During that time, he has played a key role, along with his co-founders, Mr. Sarnicola and ViSalus President, Blake Mallen, in developing and marketing nutritional products that have helped millions of people lose weight and live healthier lifestyles. This includes the company's flagship Vi-Shape® Nutritional Shake Mix, which has been one of the most successful meal replacement shakes in the history of the direct selling industry.
He also was responsible for ViSalus being one of the earliest companies to implement the concept of Challenge Marketing through its Body by Vi Challenge®, a health and wellness platform used to market and sell ViSalus products to customers and motivate people to achieve their health and fitness goals.
Mr. Blair will continue serving as a member of Vi's Board of Directors and remain a significant stockholder and investor in ViSalus. He will also remain active in ViSalus by working closely with Mr. Sarnicola as a key advisor by providing his counsel and insight in order to ensure a smooth transition. Mr. Blair will primarily focus on new innovations, technologies, and business development strategies to propel Vi to future success.
Mr. Blair commented, "I signed on to Vi as CEO when the company was in its infancy. From selling the company to Blyth and then buying it back in 2014, to leading a turnaround over the past two years, I'm very proud of what we have accomplished. Now, I am ready to hand over the reins to my great friend and longtime co-founder, Nick Sarnicola, who I am confident will provide ViSalus with the leadership necessary to help ViSalus grow and be successful in its next chapter."
Nick Sarnicola
In his new role as CEO, Mr. Sarnicola will focus on the long-term vision of ViSalus and primarily be responsible for identifying and developing new leaders, creating the best possible entrepreneurial opportunities for Vi Promoters, and launching new products and markets.
In taking on these new roles and responsibilities, Mr. Sarnicola will relinquish his position as Global Ambassador and independent Promoter of ViSalus. ViSalus expects that Mr. Sarnicola's many years of experience in the direct selling industry as Vi's most successful independent Promoter, during which time he was integral in generating cumulative sales for ViSalus in excess of a billion dollars, will serve him well in this new position.
Mr. Sarnicola added, "I've worked with Ryan for 12 years and I am excited to continue working with him and receiving his guidance as I assume responsibility and leadership for the future of the company he, Blake and I created.
I am grateful to Ryan and the dedicated ViSalus corporate team for putting the company in a position to hit the gas pedal to leverage the value of the great products and brands we have developed and acquired over the years such as NEON Energy Drink® and Vi-Shape Superfood Shake™. I'm excited in this new role to combine my deep knowledge of the direct selling industry and my love of our Promoter force to build on the foundation we have created to take ViSalus to new heights."
Other Management Changes
Mr. Mallen will continue as President of ViSalus and remain a member of Vi's Board of Directors. He will continue supporting the growth of the business by working closely with both ViSalus corporate and field leadership to drive business strategy, champion company culture, and oversee Promoter-facing functions, including sales, marketing, promotions, events, training, communications, and the Promoter Code of Ethics.
Todd Goergen will continue to oversee Vi's financial and legal functions and remain on Vi's Board of Directors.
Vice President, General Manager of Europe and Chief Information Officer, Aldo Moreno, has returned from Amsterdam after managing ViSalus' launch into 12 European countries to assume the role of Chief Operating Officer.
The goal of these management moves is to allow Vi's corporate leaders to operate in their greatest areas of strength in order to provide maximum value and drive Vi towards achieving its primary goals of building its global sales force of independent Promoters and maximizing sales of healthy and nutritional products to its customers.
About ViSalus
ViSalus is a healthy lifestyle company committed to transforming life, health and prosperity around the world by creating meaningful connections, supporting physical transformations, and promoting entrepreneurial freedom. Through its flagship program, The Challenge, ViSalus has developed a leading platform for achieving weight-loss, health and fitness results.
With NEON Energy Drink®, ViSalus is quickly revolutionizing the booming energy drink market with a top-shelf option that fits into Vi's healthy lifestyle. Founded in 2005, ViSalus develops innovative weight-management products, functional foods, energy drinks and nutritional supplements that it markets and sells direct-to-consumers through an international sales force of independent Promoters.
ViSalus offers its products in North America under the ViSalus® brand and in Europe under the Vi™ brand. ViSalus is headquartered in Troy, Michigan, with offices in Los Angeles, California and Amsterdam, the Netherlands. For more information about ViSalus, please visit Vi.com and follow the Vi-Community on Facebook (Facebook.com/Vi), Instagram (@ViSalus) and Twitter (@ViSalus).