Wor(l)d Global Network Projects to Sell Over 1 Million Helo Smart Wristbands
December 21, 2016
By Team Business For Home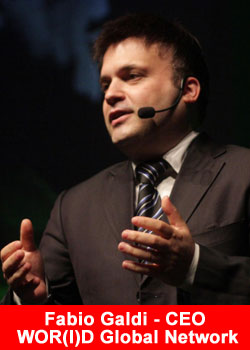 World Media & Technology Corp. (Wor(l)d) (OTC PINK: WRMT), today announced that following the international success of Helo, WRMT's first smart wristband which uses ApP Lite™ from Toshiba Corporation's (TOKYO: 6502) Storage & Electronic Devices Solutions Company (Toshiba).
WRMT is projecting Helo sales in excess of 1 million units in 2017. Toshiba is hosting an invitation only pre-view of WRMT's latest smart wristband, Helo LX at CES, Las Vegas, 5-7 Jan 2017.
In the last 6 months, WRMT has ordered 300,000 ApP Lite™ processors from Toshiba and has already secured Helo sales in over 30 countries. Helo LX is the luxury version of Helo, a smart wristband with a connected app that provides real-time health monitoring.
Wor(l)d's unique algorithm analyses the data gathered by Helo, determines what it means and presents it in an easy to understand interface to inform the wearer's health and lifestyle choices. Helo features include measurement of Blood Pressure, ECG, Heart Rate, Respiration Rate, Heart Rate Variability (HRV) analysis for mood and energy levels along with measuring steps, distance and calorie burn.
Fabio Galdi, CEO, World Media & Technology Corp., said,
Our Helo sales to over 30 countries in the last 6 months and our strong 2017 sales pipeline confirms that we have found our niche.
He continued, We are increasing our Helo production to ensure that we can supply at least one million Helo in 2017 to match our growing sales demand. Helo's success has opened up a significant big data opportunity for us as we will create one of the largest databases in the world where we will store permission based anonymized, international, human vital signs and other biometric parameters gathered from our Helo wearers.
This opportunity lays the foundation for our planned stock market up list to a major US exchange in 2018.
ApP Lite™ is a trademark of Toshiba Corporation.
About Wor(l)d
World Media & Technology Corp. designs, manufactures and sells connected, next-generation, in-novative wearable devices which use its proprietary Life Sensing Technology. It has end-users in over 80 countries which it supports through its exclusive distribution partnership with Wor(l)d Global Network (www.worldgn.com). For further information, see www.worldmediatech.com.
About Toshiba
Toshiba Corporation, a Fortune Global 500 company, channels world-class capabilities in advanced electronic and electrical product and systems into three focus business fields: Energy that sustains everyday life, that is cleaner and safer; Infrastructure that sustains quality of life; and Storage that sustains the advanced information society. Guided by the principles of The Basic Commitment of the Toshiba Group, Committed to People, Committed to the Future, Toshiba promotes global operations and is contributing to the realization of a world where generations to come can live better lives.
Founded in Tokyo in 1875, today's Toshiba is at the heart of a global network of 550 consolidated companies employing 188,000 people worldwide, with annual sales surpassing 5.6 trillion yen
(US$50 billion). (As of March 31, 2016.) To find out more about Toshiba, visit www.toshiba.co.jp/index.htm