Nerium International Crossed The $1 Billion Threshold
March 16, 2017
By Team Business For Home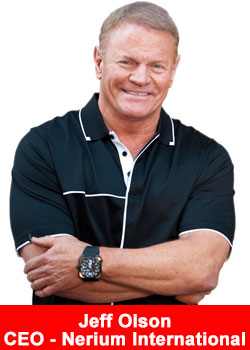 Nerium International crossed the billion-dollar threshold in earnings in just 4 years after its 2011 launch.
Nerium International has shattered industry records with impressive achievements that have catapulted the company from the position of innovative startup to respected relationship marketing and global, anti-aging leader.
The company's unprecedented success is reflected in Nerium's cumulative sales of $1 billion after only four short years in operation. Recognized for its historic growth, Nerium was listed as the number one Consumer Products and Services company on the Inc. 500 list of Americas' fastest-growing private companies in 2015 and whilst also making the Direct Selling News' Global 100 List for three consecutive years from 2013–2015.
Nerium International also made Women's Wear Daily's list of the top 100 beauty companies in the world in 2015 and ranked number one in the Women's Wear Daily Beauty INC Top 10 Sales Gains List. As of 2016, Nerium has received 62 prestigious industry awards and accolades for company and product excellence.
Nerium's industry record-breaking growth comes from the company's satisfied customers who share their "Before" and "After" photos and powerful testimonials online and with friends.
"The Real Results photos are a powerful tool in our business. It's easy to share the products because the pictures tell the story. And, in this case, a picture is worth a thousand words"
says Amber Olson Rourke, Nerium International's Chief Marketing Officer.
For its expanding product line, Nerium has been focusing on opportunities in the booming anti-aging industry with a range of multifunctional products. The global market for age-defying products and services is expected to top $331 billion by 2020. The anti-aging cream segment is expected to top $36 billion in the next five years in the skincare industry.
Nerium's Founder and CEO Jeff Olson has successfully tapped into this large market with his scientifically-backed skin care line. And, Nerium's continued growth is powered heavily by word-of-mouth recommendations that are propelling sales in the direct sales channel where 75 percent of independent distributors are women.
The growing movement to entrepreneurial businesses, versus the traditional 9-5 job, has fostered the continual growth of the direct selling industry. In fact, experts predict that nearly 40 percent of Americans will become small business owners by 2020, as they start businesses, take on freelance work and look for other innovative ways to earn additional income.
Direct sales offer an easy way for people to try out the entrepreneurship space and assess whether or not relationship marketing is right for them – either as a part-time option, to earn additional income or, potentially as a full-time career.
"Nerium makes it easy for people from all different walks of life and backgrounds to participate in the business because we offer a proven system that helps lead to success.
We provide the business foundation and tools and then brand partners can focus on selling the products they love.", says Rourke.
Nerium's global expansion to eight countries combined with the introduction of new products and the continued growth of the anti-aging market positions Nerium to continue to be a leader in the direct sales industry.
About Nerium International
Based in Addison, TX, Nerium International is a global relationship marketing company with Age-Defying products crafted from cutting-edge research and science. Founded in 2011, Nerium International has shattered industry sales records while developing a strong customer base in North American, Latin American and Asia-Pacific markets.
This unprecedented success has allowed Nerium International to generate $1 billion in cumulative sales after just four years. Led by an executive leadership team with vast domestic and international experience, Nerium International is committed to providing an excellent product line based in real science and providing its Independent Brand Partners with a life-changing and outstanding business opportunity through relationship marketing. For more information, please visit: www.nerium.com.