Youngevity Announces Major Event in Mexico
March 17, 2017
By Team Business For Home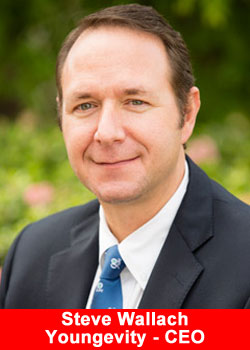 Youngevity International, Inc. (OTCQX: YGYI), a leading omni-direct lifestyle company, and a Triple A classified opportunity by Business For Home, today announced its inaugural corporate event taking place in Mexico March 24 and 25th.
Youngevity's Mexico head office is located in Guadalajara and is overseen by Country Manager, Alicia Gutiérrez. Alicia reports to Director for Latin America, Susana Azócar.
As field leadership has grown in the region, the decision was made to launch an event strategy in Mexico similar to the event strategies Youngevity utilizes in support of its Associates in other countries around the world.
We are proud to see Mexico expanding and to experience the momentum being created in this market by our leadership in the region.
Mexico is quickly evolving as one of the faster growing countries where Youngevity does business,"
stated Steve Wallach, Co-Founder, and CEO of Youngevity.
"The Company has invested the time, resources and staffing to help ensure that this market will be well served by Youngevity and can represent the model for further regional expansion. We believe Mexico serves as the gateway to our Latin American markets.
"Youngevity opened registration in Mexico in 2014 based on the growing success of the U.S. Latin market for our Company.
As we look toward further expansion into Mexico, we applied our product lifestyle concept, our omni-direct business model, and identification of the best initial product mix — all of these aspects, together with country-specific customer service needs and distribution strategies, and now an event strategy should enhance the Youngevity brand experience in Mexico, continued Dave Briskie, President and CFO of Youngevity.
Product categories currently available in Mexico represent a microcosm of Youngevity's virtual main street of products, and include: nutritional supplements, all-natural spa and beauty products including Youngevity's therapeutic-grade essential aromatherapy oils, triple-certified coffee, and the Mialisia jewelry collection. Please visit www.youngevitymx.com for a complete product catalog.
In honor of Mexico's first major corporate event, festivities will be held at the Youngevity Guadalajara offices throughout the day and feature Company Founder Dr. Joel Wallach; President and CFO, Dave Briskie; Youngevity Be the Change Foundation Executive Director Lisa "Sunshine" Briskie; International Expansion Advisor and Scientific and Athletic Advisory Board Member, Sanjeev Javia.
On Saturday, March 25 there will be field training for Youngevity Associates conducting business in Mexico. Event and training details are available at www.youngevitymx.com/apertura-ygy-mx/. The events throughout the weekend will feature Youngevity Field Leaders and several honored guests.
Youngevity was founded upon the pioneering principles of Dr. Joel Wallach; always looking forward to the betterment of society. Today Youngevity continues to meet this mission with groundbreaking products, innovative services and a fulfilling business opportunity individually defined through flexibility and personal lifestyle choices. And in this Pursuit of Betterment, the Company continues to build and grow its Youngevity Be the Change Foundation. 100% of the profits from Youngevity Be the Change Coffee, and other special products highlighted on the Foundation website, finance Foundation operations.
About Youngevity International, Inc.
Youngevity International, Inc. (OTCQX: YGYI), is a leading omni-direct lifestyle company – offering a hybrid of the direct selling business model, that also offers e-commerce and the power of social selling. Assembling a virtual Main Street of products and services under one corporate entity, Youngevity offers proven products from the six top-selling retail categories: health/nutrition, home/family, food/beverage (including coffee), spa/beauty, apparel/jewelry, as well as innovative services.
The Company was formed during the summer 2011 merger of Youngevity Essential Life Sciences with Javalution® Coffee Company (now part of the company's food and beverage division). The resulting company became Youngevity International, Inc. in July 2013. For investor information, visit YGYI.com.
For general information on products and services, please visit youngevity.com. Keep up with current activities by following Youngevity on Twitter and liking the company Facebook page.