Starbit Launches Brutus "To Learn By Doing" Crypto Currencies
May 31, 2017
By Team Business For Home
After intensive months of developing and hard testing, Starbit International is proud to introduce to the international market, the first public release of Brutus, one of the newest and unique Robot trading all available crypto currencies and working on multiple platforms.
Introduced on the market as the technical practice of Starbit blockchain package, Brutus is going to become a super product that together with Starbit Digest, a weekly magazine, will have a terrific impact in the alt-coins market.
Brutus works with special algorithms and contains the newest 5 strategies available on the market, including one smart arbitrage that allows users to learn and do trades instantly on more exchanges with several coins with just one click and grant in some window's time one 100% win/win position. Brutus Artificial Intelligence was thoughts error's proof as destined to massive users.
In the idea of Starbit management, Brutus will be the superhero "normal" people will love: those who still don't know the blockchain and are not experts.
"Brutus is good with good people and is bad with greedy ones",
so it's a new modern superhero that is ready to challenge this big growing market.
As revealed recently from the MIT, Massachusetts, the Crypto currency market is growing exponentially but the data suggests its market share will drop significantly in the next few years.
"When it comes to the future of money, there is a growing consensus that crypto currencies are set to play a major role".
Brutus first release opens a new scenario in this industry that goes far beyond a simple practice exercise within the blockchain package and is the first brilliant stone towards a full 100% automated system.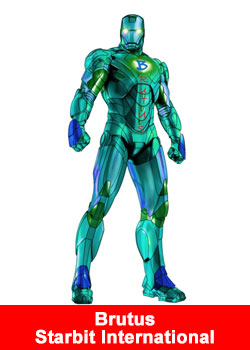 Starbit developers' team is composed by the very best brilliant minds in the area. In fact, Starbit mission consists of releasing new exciting products to be far beyond any competitors, made available to simple people.
For this purposes, Starbit management believes that a compliant network marketing system in this area can represent an innovation to bring these services to massive users worldwide.
Starbit International has recently launched a new revolutionary Blockchain project, which allows ordinary people to access knowledge in the world of Blockchain and crypto currencies, through a theoretical and practical course that also includes an innovative automatic software able to work with multiple platforms and any alt-coin on the market.
Starbit International uses a network marketing compensation plan that rewards its distributors promoting our Blockchain Information Packs and its new digital services, with 10 different ways of earnings and one unique binary balanced system that thanks a special algorithm, rewards promoters on the double sales volumes generated by the weaker team and adds great benefits to all active promoters.
About Starbit International
Under the wise direction of a group of investors and technology partners, we can rely to a team of experts in various areas ready to support the community, with over twenty years experience in financial management, administration, sales and technological innovation. A professional staff is at your service.
We are committed to selecting everything needed for a person to be informed and about blockchain technologies and various applications, making it easier, in a progressive manner, accessible to all, thus saving time and resources to anyone interested in this area.
The goal is to offer various degrees of knowledge to those who are interested in playing an acting role, without the needing to become experts, like is happening today. Starbit also offers an opportunity to those who want to transform all this into a work from home opportunity.
Starbit uses a compensation plan that claims to be full compliance worldwide as there are no fees to subscribe, nothing to buy, and distributors are rewarded only from the sales of services. Starbits rewards distributors and accepts payments by customers exclusively in Bitcoin.
For more information visit www.starbit.com