Mary Kay Distributor Earns Her 13th Pink Cadillac
July 6, 2017
By Team Business For Home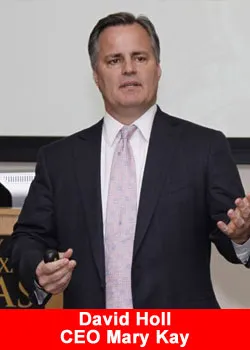 Lesa Franken has been working for Mary Kay for almost 35 years. She has been a sales director for nearly 30 years. On June 30, she picked up her 13th pink Cadillac, a 2017 Cadillac XT5.
Each Mary Kay career car has a two-year lease, which has allowed Franken to drive a total of 18 career cars in her time with the company.
Franken, an independent executive senior sales director, has been named to Mary Kay's National Queens Court of Personal Shares 16 times, earning a diamond ring for selling at least $40,000 of merchandise. She also has been part of the National Queens Court of Personal Sharing twice, earning a diamond bumblebee for her team building.
Franken and her team of consultants have been recognised in Mary Kay's Circle of Achievement for selling at least $300,000 of merchandise as a unit. Franken and her consultants once won a trip to Germany for selling $650,000 worth of Mary Kay products.
In her career, Franken has been awarded Star Consultant prizes 129 times. This is awarded based on sales of $1,800 or more in a quarterly period. Despite her long history of high achieving, Franken isn't just in it for the prizes.
"I don't really pay attention to the money," Franken said.
"I love driving the cars and I love working with people and working with my beauty consultants."
Franken said she only knows all of these awards because she recently called the company to list them for her accolades.
"I just love what I do, so I don't really track things," Franken said.
Before Franken started with Mary Kay, she was a nurse in Brookings. She has been committed to the Mary Kay business because she enjoys being able to help build confidence in others, the flexibility and working with her consultants.
Franken said she admires the work Mary Kay does for cancer research and domestic abuse shelters with the Mary Kay Charitable Foundation.
"A lot of times people don't realize when they support Mary Kay and their local beauty consultants, supporting that business locally, that they really are supporting women indirectly across the world," Franken said.
Mary Kay gives each state at least $20,000 annually for domestic abuse shelters, and last year Watertown's Beacon Center was the recipient of one of Mary Kay's donations. Heather VanWell, a sales director from Selby, said she loves working with Franken's team of consultants because they are "all one big family."
VanWell just earned her first pink Mary Kay car, but instead chose the $900 monthly cash compensation. Franken has had a long ride with Mary Kay, and she doesn't anticipate stopping anytime soon.
"My family asks me sometimes when I plan to retire, and I never plan to retire," Franken said. "I will do Mary Kay as long as I can because I love it!"
About Mary Kay
At Mary Kay, success lies in our dedication to irresistible products, a rewarding opportunity and positive community impact.  For more than 53 years, Mary Kay has inspired women to achieve their entrepreneurial goals in nearly 40 countries.  As a multibillion-dollar company, we offer the latest in cutting-edge skin care, bold color cosmetics and fragrances. Discover more reasons to love Mary Kay at www.marykay.com