Tupperware Q2 Revenue Up 1% To $572 Million Beauticontrol Will Wind Down
July 26, 2017
By Team Business For Home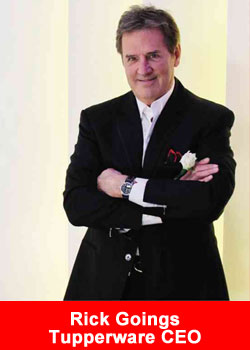 Tupperware Brands Reports Second Quarter 2017 Results; Significant Restructuring Actions to be Taken, Including Wind-down of Beauticontrol.
Total sales force of 3.2 million was up 3% versus the prior year. Average active sellers in the second quarter were down 7% compared with 2016.
After being unsuccessful in finding a buyer for the business, the Company has decided to wind-down Beauticontrol's operations over approximately the next 60 to 90 days.
It expects a small amount of sales in the third quarter as on-hand inventory is sold through, compared with third and fourth quarter 2016 sales of $9.8 million and $11.5 million, respectively. The reduction in 2017 sales versus 2016 related to the Beauticontrol business is estimated to have a negative 1-percentage point impact on the full year, total company sales comparison. Beauticontrol lost $2.6 million in the first half of 2017 and $4.1 million in the second half of 2016.
Rick Goings, Chairman and CEO, commented, "Local currency sales grew 2% in the second quarter, below what we were looking to accomplish, but within our guidance range.
Another stellar quarter in China and Brazil was partially offset by worse results in Indonesia. Profitability was a highlight in the quarter with adjusted earnings per share coming in at the high-end of our range in local currency before a 1-cent drag from foreign exchange rates versus April guidance."
Goings continued, "Strategically, we continue to move forward with our business transformation plans in key markets and other than for the Beauticontrol wind down, have not changed our expectations with regard to local currency sales growth in the second half of 2017.
We expect sales growth will come from solid execution of fundamentals, along with innovative digital strategies across the portfolio that will allow more of our businesses to leverage our strong aspirational brand and the earning opportunity for our 3.2 million global sales force."
Second quarter 2017 net sales were $572.9 million, up 1% in dollars and 2% in local currency. Emerging markets**, accounting for 69% of sales, achieved a 6% increase in dollars and local currency. The most significant contributions to the second quarter growth in local currency were in Brazil, China and Tupperware South Africa, partially offset by Indonesia. Established markets were down 7% in dollars and 6% in local currency, most significantly in France and at Beauticontrol.