Thirty-One Gifts CEO Says: We Will Grow Again
September 18, 2017
By Team Business For Home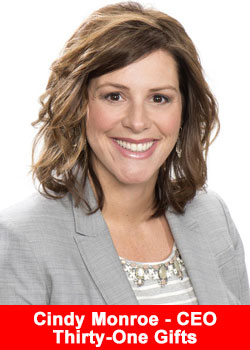 Personal attention has long been a big piece of the retailer tool box, and it's become even more critical in an era when customers demand what they want when they want it and where they want it. It's something that Columbus-based Thirty-One Gifts believes is its competitive edge.
"I actually think we have the advantage here over Amazon or e-commerce," said Cindy Monroe, founder, president and CEO of Thirty-One.
"We have understood the customer experience for a really long time."
"We already understand how to connect with customers. Our biggest risk is going to far the other way into digital. The problem in online is it's hard to create that personal experience. For us, if we do online, it's still an online party where (sales) consultants are personalizing the product, helping (customers) create a gift."
Thirty-One Gifts uses an army of sales consultants selling personalized boutique items in house parties as the backbone of its direct-sales business. The business recently went through a cycle of growth, decline and resurgence that Monroe spoke of during the company's recent annual sales conference at Nationwide Arena.
A decade after its founding in 2003, company revenue peaked at $763 million.
In 2014, revenue dropped to $643 million, then fell again in 2015 to $516 million and again in 2016 to a level that the privately held company has not disclosed.
"We were growing so fast we didn't necessarily see it coming," she said. "We weren't sure it was a bump or new trend."
By the second year of declines, she determined that change was needed, and some adjustments were made. "We can't keep spending like a $700 million company.'"
The company cut its sales force significantly, dropping to 60,800 consultants this August from a high of 120,000 in 2012. Starting in 2015, Monroe and her team began doing "a lot of analysis," and talked to sales leaders around the nation.
"We were asking lots of questions," she said. "There wasn't one silver bullet.
The advantage we had in bringing together our leadership team was we were talking with our leaders out in the field. It was just a collaboration we've never had before."
By the third year of the down cycle, the company began to focus on growth again.
"The real turnaround started last fall. We were able to have a growth season for the first time in three years. Now that we've turned around, we can focus on building on that momentum."
During the recent sales convention, Monroe told consultants that despite the downturn, the company will debt-free this year.
Monroe is committed to being there for her sales reps, mostly women from young families who want and need extra income. But that means the company has to keep an eye on trends so the merchandise is attractive to buyers.
(We've) got to stay current with social media, with products. We can't sell same prints and products that we did 10 years ago."

Thirty-One Gifts Head Office
As published in the Dispatch.com
About Thirty-One Gifts
Founder, President & CEO Cindy Monroe started Thirty-One in her basement in 2003. From those humble beginnings we've grown into one of the most successful direct-selling businesses in the world, with more than 90,000 independent Sales Consultants across the U.S. and Canada.
Thirty-One Gifts is about so much more than just a bag. We are a family of individuals who share a passion for empowering women, and who are committed to celebrate, encourage and reward others for who they are.