Vincent Piscitello From Switzerland Achieves Blue Diamond In Starbit
October 1, 2017
By Team Business For Home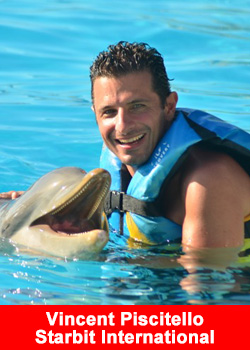 Vincent Piscitello was born in Switzerland. When he was twenty, at the end of the very first marketing training session of his life, he decided that his goals were to become a very good and charismatic trainer that inspires others and to travel a lot. When you decide something and you still have the right focus, dreams come true.
Vincent says:
During my business experiences, I worked in 5 different countries in Europe, starting from Sales Representative and growing to Team Leader, Area Manager, Country Manager, International Recruiter & Trainer. Our group reached in a few years more than 5 million customers in Europe, with huge revenues for the company and very good earnings for myself.
One day, a friend of my mine told me for the first time about a Network Marketing business and invited me to an opportunity meeting. The product was smart and for the first time I opened my mind about something very new for me and totally different of my previous experiences in sales force: the power of the residual income.
I started the business without any real focus or goal, just like an hobby and I reached the results  of a hobby: only costs !
After a few years, I moved to Italy for my main business and right there I knew a leader for a Network Marketing company that shared with me the opportunity to generate residual incomes in the telecommunication deregulation period. That was a great idea and I signed up.
That was for sure the experience where I really learned more about what is really the most important thing in the mlm industry, and the most important thing is YOURSELF! I was thinking that I already knew everything with my previous success in business and for this reason I wasn't really neither coachable nor humble.
I paid a very huge price for this wrong attitude: for many years my mlm business didn't grow up!  
Anyway I was sure that I discovered the right industry for me, and despite I was struggling , I never gave up, I changed my attitude trying to understand what I needed to change to reach success in mlm.
The point is : change has happened because of the inspiration I received from many international top leaders I had met in different countries , during the events or conventions I took part in regularly, often without anybody from my team, often frustrated seeing others being successful without really understanding why I wasn't . I learned a lot, I read a lot of inspirational books, I worked a lot on my attitude .
When in 2012, looking for new opportunities, I discovered some information about a network marketing company that was growing very fast in the USA. Looking for European leaders, I met Riccardo Vieri and Luana Sicari and their uplines. With their help, support, motivation and inspiration and with my new ME, my mlm business grew very fast, with thousands of distributors around the world and many and many beautiful success stories!
My mlm business become my main business, and I reached very high ranks in 3 different big mlm companies, like Emerald, Diamond, Double Diamond and now Blue Diamond with Starbit.
Starbit is the game changer. Starbit changed my life:
A worldwide customer-based company 100% compliance. A great mission: sharing with everybody information about the block chain and crypto currencies, when now this knowledge is only for a few people. Unbelievable and real products that everyone in the world really wants because they create value.
And it works: now thousands of people like you and me, that a few months ago didn't know anything about these topics are now aware and know how to create daily value in these markets.
In a few months, Starbit and my team grew very fast, with hundreds of new promoters and thousands of satisfied customers around the world, reaching with my fantastic team the rank of Blue Diamond in Starbit.
My goal is to help more people to reach the rank and the lifestyle they deserve.
And guess what? Starting from now everything in Starbit will go faster! Our unique Walkybit APP launched on September 2nd is mind-blowing, customers and promoters are growing in an exponential way.
I never saw anything similar in my life, the dream of every networker is coming true : a real, green product that everybody wants, with billions of potential users in the world, that produces at the end currencies without changing your habits and that helps everyone to move more and often, free for 5 days, and that opens the door to start a worldwide business immediately without risk, with 10 ways to earn money (with residual income as well !) and that helps others in the world to improve their physical and financial wellness!
About Starbit International
Under the wise direction of a group of investors and technology partners, we can rely on a team of experts in various areas ready to support the community, with over twenty years experience in financial management, administration, sales and technological innovation. A professional staff is at your service.
We are committed to selecting everything needed for a person to be informed and about blockchain technologies and various applications, making it easier, in a progressive manner, accessible to all, thus saving time and resources to anyone interested in this area.
The goal is to offer various degrees of knowledge to those who are interested in playing an acting role, without the needing to become experts, like is happening today. Starbit also offers an opportunity to those who want to transform all this into a work from home opportunity.
Starbit uses a compensation plan that claims to be full compliance worldwide as there are no fees to subscribe, nothing to buy, and distributors are rewarded only from the sales of services. For more information visit www.starbit.com