Melaleuca Achieves $2 Billion In Annual Sales
December 27, 2017
By Team Business For Home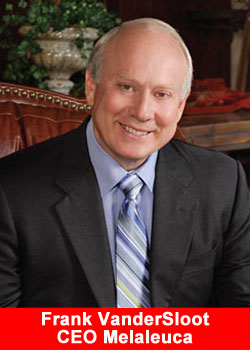 On 26 December 2017, Melaleuca surpassed its first year of $2 billion in annual revenue.
Melaleuca first hit $1 billion in annual sales about six years ago. The company began in 1985.
Hundreds of Melaleuca, Inc. employees shot off thousands of strands of confetti Tuesday afternoon as they celebrated earning $2 billion in revenue for the first time.
Melaleuca CEO Frank VanderSloot hosted a live Facebook broadcast as a large monitor tracked sales in real time leading up to $2 billion.
Weve been in great anticipation of this moment for many, many years and I just have to tell everyone thank you so much for the role you have played in getting us to this point,'
VanderSloot said during the broadcast. This is just a milestone '" its not a destination.'
VanderSloot said Melaleuca has been growing like a rocket ship' over the past 24 months and pointed out that it took the company 19 years to make its first $500 million.
Then it took us eight years to make our next $500 million, then five years to make $1.5 billion and its only taken us 14 months to get to two billion,' VanderSloot said. Weve never had this kind of growth.'
VanderSloot attributes Melaleucas growth to its employees and others who have helped build the business. He says tens of thousands of people have their fingerprints' on the company and hes proud of what they have accomplished.
This says were on the map and were a company to be reckoned with,' VanderSloot said.
CEO and founder Frank VanderSloot has directed international development of the company's nutritional, pharmaceutical, personal care, and household cleaning products.
About Melaleuca
Melaleuca: The Wellness Company enhances lives by developing, manufacturing and marketing more than 480 natural health and wellness products. These health, home cleaning, pharmaceutical and personal care products are designed to be safer and more cost-effective than grocery store brands.
Visit melaleuca.com for more information.