Michael And Teresa McCormick Achieve Triple Diamond Rank At Valentus
December 20, 2017
By Team Business For Home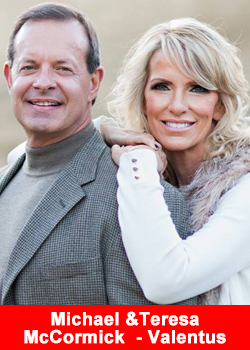 Keeping up with the triplets, can be a full-time job on its own, and Valentus helps the McCormicks enjoy their time with their children.
With triplets about to turn 11, Michael and Teresa McCormick can use all the extra energy they can get.  Thanks to Valentus, they can (mostly) keep up with their busy children.
Michael and Teresa were first mailed a Valentus sample in April 2016.
When we tried the product, we knew we had something special,'
Michael says. No doubt about it.' The couple didnt think life could get any busier, between their business and children, but life did just that. However, they dont regret it: Its a lot busier, but fun. Its more complete,' Michael says.
Because of the freedom and flexibility Valentus provides, Michael and Teresa can travel more, make new friends and meet people. Theyre even able to go to Illinois, where they grew up, for two months each summer.
We have a lot more freedom to do what we want to do,'
Teresa says.
But its not all travel for the Triple Diamond couple. In 20 years of network marketing, Ive never seen anything like this,' Michael says. This will be a global company.' They have daily, personal contact with new people and leaders in their group and use social media to stay in touch. Reaching out and asking how people are has helped them grow.
Michael was a huge coffee drinker' before Valentus came along. He now enjoys Prevail SlimROAST every morning instead. He also loves Prevail Energy, which he uses for apick-me-up before hitting the gym. Michael, 56, has regularly worked out since he was 16 and Prevail Energy helps him continue his gym routine. He loves getting the energy he needs from healthy ingredients.
Teresa wasnt a coffee drinker before, but saw the value in Valentus products. She works out several times each week and eats well '" they didnt think she had weight to lose on these products. The biggest benefit she has seen has been how Energy or SlimROAST helps in the afternoon. Shell have a cup of it if shes dragging and the triplets are about to get home from school, but it doesnt keep her awake at night. Overall, she feels more stable by using the poducts.
From years of work experience, Michael and Teresa feel they can discern how to pick a good company: its leadership. Dave and Joyce Jordan fit the bill, the McCormicks said.  Great companies rise and fall on leadership,' Michael says,
You can have a life-changing experience here made available to more than industry professionals '¦ So many people are finding success here.'
About Valentus
In Latin, the word Valentus' means prevail,' defined as proving to be superior in strength, power, and influence. Recognizing that, we couldnt have picked a more fitting name for a company that strives to be the example in an industry that deserves a leader to follow.
Since day one, our focus, our passion, and our commitment have been to create a company, a product line, and an opportunity built on a foundation of integrity.
From creating significant levels of income, to building strong networks, healthy long-lasting relationships, making new friends, participating in activities you never even knew existed, having the time to do the things you love with the people you love to be with, VALENTUS can help you PREVAIL in ALL of your goals. For more information please visit www.valentus.com