LR Health & Beauty Expands In The Health Sector
January 3, 2018
By Team Business For Home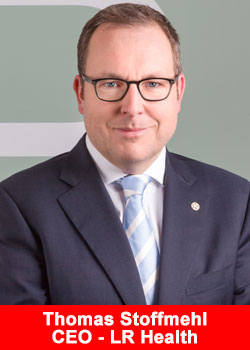 LR Health & Beauty, one of Germany largest network marketing companies, with headquarters in Ahlen (Germany), has over 20 years of expertise in the production of food supplements.
Focussing even more strongly on the needs of consumers, the network marketing company has invested significantly in the healthcare sector and designed a modern health management system surrounding the new health brand LR Lifetakt. The brand will be introduced in the countries where LR is active gradually.
The health segment is one of the main growth drivers at LR.
The market for innovative healthcare concepts as a whole has grown extremely rapidly throughout Europe. More and more people are taking their health into their own hands.

With our new strong LR Lifetakt brand, we can be a competent partner for these people '" true to our motto '˜More quality for your life',
says Dr. Thomas Stoffmehl, CEO of LR Health & Beauty.
LR Lifetakt bundles high-quality food supplements and meal replacement products, which were put together by experts to form six overall solutions and thus meet the most important demands on the healthcare market: Nutrient supply for every day, vitality at every age, weight management, enhanced performance, seasonal support and unrestricted mobility. LR follows a holistic approach.
The solutions are based on a newly developed three-pillar system: a basic solution, individual product supplements and additional expert tips on nutrition and lifestyle. Additionally the tailor-made sales concept supports the sales partners as best as possible in their customer meetings and thus in successful business development.
LR attaches great importance to the quality of its products. In Ahlen, the company recently built the most modern production site for Aloe vera products in Europe.
From February 2018, LR Aloe Vera Drinking Gels will be produced there. These are an important component of the LR Lifetakt overall solutions. Aloe vera products are one of the core competencies of LR. Since 2002, we have sold more than 55 million litres of Aloe Vera Drinking Gels.
With the production site, we are reinforcing our claim 'Made in Germany'",
says Dr. Thomas Stoffmehl.
LR Health & Beauty
Under the motto More quality for your life, the LR Group with headquarters in Ahlen/Westphalia produces and markets various health and beauty products in around 28 countries. The range includes care and decorative cosmetics, dietary supplements and perfumes. In the fragrance segment, the company, which was in founded in 1985, has established exclusive cooperations with celebrities such as Guido Maria Kretschmer, Karolina Kurkova and Bruce Willis.
With more than 1,200 employees as well as thousands of registered sales partners and customers, LR is one of Europes leading direct sales enterprises. Since 2014, LR products are also available at the company's customer online shop. LR's strong market position is based above all on a high-quality product range and an attractive bonus and training plan which is unsurpassed in the industry. LR also established the LR Global Kids Fund e. V. which provides efficient and unbureaucratic support for deprived children and their families in many different countries around the world in cooperation with local institutions.