Isagenix Achieves $6 Billion In Cumulative Global Sales
May 6, 2018
By Team Business For Home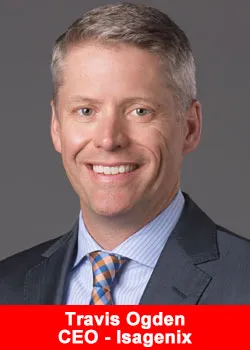 Isagenix International, a global health and wellness company providing nutrition and lifestyle solutions, is celebrating a significant milestone: $6 billion in cumulative global sales.
The milestone, reached in mid-April, is the latest evidence of the companys impressive growth and performance since it launched in 2002. Isagenix now operates in 16 markets across the world and has nearly 600,000 customers globally.
Im thrilled to see Isagenix pass another milestone that is representative of the positive impact we are having on so many lives around the world,'
said Isagenix Chief Executive Officer Travis Ogden.
This growth increases our ability to connect customers in multiple countries with our exceptional solutions so they can live their best lives, which is incredibly gratifying for our company.'
Isagenix employees at the world headquarters in Gilbert and in the companys international offices celebrated the $6 billion mark with a special Share the Shot® moment featuring the companys e+â"¢ energy shot and other Isagenix products. Executive leadership team members distributed the energy shots at the Gilbert headquarters, and Erik Coover, Isagenix senior vice president of global field development and culture, led employees in the celebration.
Additional Isagenix milestones include two honors from Direct Selling News magazine. The publication recently named Isagenix one of its 2018 Best Places to Work in Direct Selling and ranked it No. 27 on the 2018 DSN Global 100.
Best Places to Work in Direct Selling highlights companies that are setting the bar for establishing and nurturing work experiences and environments that bring out the best in people. As one of 13 2018 Best Places to Work in Direct Selling, Isagenix was featured in the magazines May issue.
The Global 100 is a list of the top direct selling companies in the world based on the previous years revenue. Isagenix secured its No. 27 this year due to steady growth and global expansion. In 2017, the company reached nearly $1 billion in annual revenue and entered the U.K., Ireland, and The Netherlands.
Isagenix is honored to receive the Best Places to Work in Direct Selling and Global 100 recognitions, as we strive to make a positive impact on our employees, the direct selling industry, and the economy,' Ogden said. We thank Direct Selling News for highlighting our contributions in those areas, and look forward to continued success in 2018.'
About Isagenix International
Established in 2002, Isagenix provides systems for weight wellness, energy, performance, healthy aging, and wealth creation. With nearly 600,000 customers worldwide and more than 100 life-changing products, packs, and systems globally, the company is committed to producing Solutions to Transform Livesâ"¢.
Since its inception in 2002, Isagenix has generated $6 billion in cumulative global sales through an independent network of associates in the U.S., Canada, Puerto Rico, Hong Kong, Australia, New Zealand, Taiwan, Mexico, Singapore, Malaysia, Colombia, Indonesia, the United Kingdom, Ireland, the Netherlands, and Belgium.
Isagenix is a privately owned company with headquarters in Gilbert, Arizona.
For more information, visit Isagenix.com.