World Global Network Announces HELO Extense – Monitoring Blood Sugar Trends Without Pricking
July 29, 2018
By Team Business For Home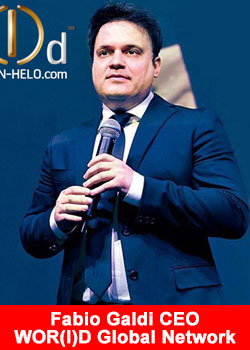 On July 28, 2018, World Global Network announced a transformative revolution at their World Changers Convention'"Asia in Singapore.  WGN announced the release of the hugely anticipated HELO Extense, along with the technological break-through SmartLife Solution and DNA Analysis.
These innovations represent advances inconsumer technology, but most importantly represent an exceptional business opportunity for the worldwide community of WGN distributors and a dramatically increased customer offering.
HELO Extense is the latest device born from the WGN-WCOR Partnership. Extense is a history-making development in and of itself.
This a first to all world markets of a Non-Invasive Sugar Trend Monitoring technology.  Not only is this is a first in the history of direct selling but its a first in all of the planets commercial markets.
HELO Extense is a unique device capable of monitoring its users Blood Sugar Trends with a completely non-invasive method. 
No more painful finger pricking!! Other companies will attempt to follow in this market category but the WGN-WCOR alliance has staked the position as the first in the world to accomplish this sought after technology.
HELO Extense joins the rest of the HELO Devices along with the newly released DNA Analysis services, adding to the ways you can learn about yourself, about how your body works, how you are built, and how to take advantage of knowing what makes you'¦ Well, you. You are unique and so must be your solution.
Our body is constantly sending us messages, radiating data.  This is our own bio-metric personal information. However, for the most part, we are not able to use or listen to what our body is telling us.
Usually, it isnt until something goes completely wrong that we begin thinking about our lifestyle choices and the results created from those choices.
World Technology Corporation and Xfinity Lab have developed a cutting-edge, technology-based solution that finally addresses all these challenges. World Global Network, first in the world, is the exclusive distributor of this proprietary technology.
In their inspiring and dramatic Singapore event, WGN introduced a game-changing and innovative SmartLife Solution. HELO is a state-of-the-art interface with the users bodies, and now with the addition of DNA Analytics plus cutting-edge Artificial Intelligence, the WGN ORACLE has combined seamlessly for the first time into this revolutionary personalized Solution.
Having continuous access to your health and wellness profile allows SmartLife Solution to personalize nutrition, fitness, creating tailor-made results with a supplement plan explicitly designed for you as a unique person.
ORACLEs personalized reports contain actionable plans to improve your health, with precise indications on how to manage your nutritional intake, the nature of dietary deficiencies to compensate for, and which foods or elements to avoid.
ORACLE generates NutraPak, a personalized nutritional supplement with unique ingredients based upon individual needs. Nutrapakis a 30-day supplement pack that ORACLE adjusts according to individual health changes.
Because one size does not fit all, SmartLife Solution bases itsplans, tips and supplement needs on your genetic profile, real time measurements and lifestyle. This way, we are creating the best chance of success to live better and achieve our goals.
WGN being the first and exclusive distributor of these productsand services in the world is disrupting a potential Trillion Dollar Industry of the global wearable devices, global genomics and global dietary supplement markets.
About World Global Network
With its headquarters in Singapore and its US office in Miami, Florida, and Provo, Utah, USA, World Global Network stands apart as a fast-growing company and a leader in the Network Marketing Industry. In its 10 offices distributed across the globe, WGN employs the brightest minds, the best professionals and motivated personnel to drive its business and create sustainable and valuable opportunities for its distributors worldwide.
Using innovative products and a proven, direct selling business model, Word Global Network helps its distributors around the world to transform their lives, and their familys livelihoods. For more information please visit www.worldgn.com.