Mary Kay Celebrates 55th Anniversary At FIT's 'Pink' Exhibit
September 21, 2018
By Nicole Dunkley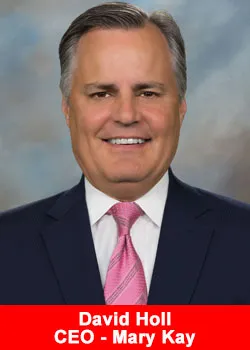 Mary Kay Inc. celebrated its 55th anniversary — and the brand's signature color — in NYC on September 6th. Mary Kay's team welcomed the press to the pre-opening of The Museum at the Fashion Institute of Technology's exhibition, 'Pink: The History of a Punk, Pretty, Powerful Color.'
Curated by Dr. Valerie Steele, director of The Museum at FIT, the exhibition explores the changing significance of the color pink over the past three centuries. It is open to the public through Jan. 5th, 2019.
Recognized as one of America's greatest entrepreneurs, Mary Kay Ash changed the world of business when she founded "Beauty by Mary Kay" on Sept. 13, 1963 with her life savings of $5,000. She had nine Mary Kay Independent Beauty Consultants. This year would have been Ash's 100th birthday.
Today, Mary Kay is a top beauty brand and direct seller in nearly 40 countries worldwide — with more than 700 products in its global portfolio and a legacy that has helped millions achieve their entrepreneurial dreams.
David Holl, president and chief executive officer for Mary Kay Inc., says, "Since our company's inception in 1963, our mission has been and always will be to enrich women's lives…We are proud to celebrate this milestone anniversary alongside our independent sales force and our global Mary Kay community."
To support the company's future needs, Mary Kay recently invested more than $100 million in a new, U.S.-based global manufacturing and research and development facility. It will be up-and-running later this year.
About Mary Kay
At Mary Kay, success lies in our dedication to irresistible products, a rewarding opportunity and positive community impact.  For more than 54 years, Mary Kay has inspired women to achieve their entrepreneurial goals in nearly 40 countries.  As a multibillion-dollar company, we offer the latest in cutting-edge skin care, bold color cosmetics and fragrances. Discover more reasons to love Mary Kay at marykay.com.