Marina Mursic From Slovenia Achieves Diamond Elite Rank With Rain International
October 18, 2018
By Team Business For Home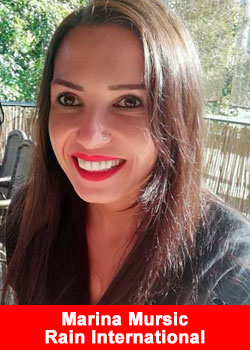 Marina Mursic from Slovenia (Europe) has been in the Network Marketing industry for three years. She is the youngest female Diamond Elite in Rain International.
Despite her young age and rookie status in the industry, no excuse was going to stop her. Today her team has spread into nearly 30 countries and 4 continents. From the beginning of her career in the industry, she was blessed to being mentored by some all time legends in the industry.
In the early days of her career, she started building her team in Africa with one of her good friends who turned into her business partner. Since then her business has grown exponentially.
Coming from a small country, Slovenia, she moved to Switzerland, where she found herself helping to run one of the hotels there.  After many ups and downs in her life she finally got to the point where she realized that there was something missing in her life: Time Freedom & Financial Freedom. That is how she discovered the world of unlimited possibilities that Network Marketing offers:
We were told that education was the ticket to employment, but really, the times have changed. I am always surprised when I see educated young people who are struggling to find work after years chasing qualifications.
I have always wanted to help people in some special way – to find and help them to live out their dreams. My mission is to help them overcome obstacles. To have the lifestyle they desire and are committed to.
'My vision for the future has always been to have a job that would allow me to travel and spend time with my family. I truly believe that we all have a special purpose and strengths. When you give a purpose to everything you are doing, success is inevitable.'
Marina says that one of the lessons she learnt, is that you can improve your life just by changing the people you surround yourself with. For her,  life is so exciting that you need to live it, try it and just do it!
Today she follows her mission and continues changing things to make this world a better place for everybody.
Founder and CEO Byron Belka said .
One thing everyone that works with Marina knows, is her total commitment and loyalty to her goals, her team, and what she believes in. Amazing leadership quality. Who doesn't want to follow someone like that.
About Rain International
Rain International is the original creator of seed-based nutrition. Our experts have gone to the source of plant nutrition to formulate products proven to support healthy lives.
Rain International is more than the products we sell. From the beginning, we set out to make changes to improve the world around us starting with the health industry and moving beyond its borders into global sustainability, education initiatives, elevated lifestyles, and more. We believe that the ultimate human experience we all crave is within everyones reach, and we dont mind leading the way. For more info please visit www.rainintl.com