World Global Network Launches HELO Extense
December 22, 2018
By Team Business For Home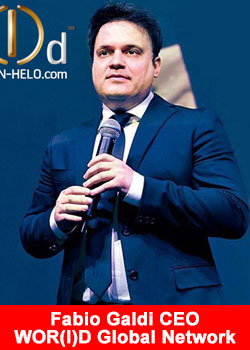 According to a WGN press release:
In January 2018, at the world's premier technology exhibition, the Las Vegas Consumer Electronics Show, World Global Network (WGN) announced the development of one of its most innovative and significant technology accomplishments, to date.
The Helo Extense, the world's first ever non-invasive glucose measurement technology and device was officially presented at WGN's World Changers Convention Asia in Singapore in July 2018.
The technical design achievements of this device along with the high level of functionality of the accompanying SugarTrend software application have now been completed.  World Global Network is pleased to announce that the shipping and delivery of this landmark device has already commenced.
With great pride and personal satisfaction of seeing his vision become a powerful reality, Fabio Galdi, WGN's President and CEO, said
"We can accurately claim today that with the production of more than 10,000 units of the first Helo Extense, WGN is confirming our history-making position as the largest manufacturer and distributor of non-invasive glucose measurement devices."
This commercial accomplishment cements our position as the leading technology company in the network marketing profession.
This innovative device has already been delivered to WGN's top distributor leadership team throughout the world. Shipping of these impressive devices to all WGN distributors is imminent.
The masterfully designed SugarTrend App will be available to download within the next few days from the Google Play Store, the Apple App Store, and the Helo AppStore. As of that moment, a very important development period will begin: The Initial Learning Phase.
This Initial Learning Phase is of critical importance in fine-tuning the last details that are part of the technology development process.  This phase will last only a few weeks and will involve our initial class of consumers.
There's nothing like being an actual part of great history!  The data generated in this Initial Learning Phase will allow the required calibration to maximize the accurate performance of this technology and every device.
WGN began this technological journey one year ago.  The company now welcomes consumers around the world to enjoy the benefits of Mr. Galdi's sweeping vision of marrying technology with health.
This WGN revolution has now created a gigantic "FIRST," not only in the network marketing sector but in all of the world's commercial marketplaces.  Simply put, no more painful finger pricking to measure and manage the body's glucose content.
The WGN philosophy is clear:  To create customized and tailor-made solutions for individual needs and situations.  This will maximize the utilitarian value of every WGN product offering, resulting in positive benefits for all WGN distributors and consumers every single day.
In this way, WGN becomes a passionate lifestyle experience where the intrinsic value becomes much greater than simply a business transaction.  With this essential combination of technology and health management, the WGN revolution is just getting started.
About World Global Network
With its headquarters in Singapore and its US office in Miami, Florida, and Provo, Utah, USA, World Global Network stands apart as a fast-growing company and a leader in the Network Marketing Industry. In its 10 offices distributed across the globe, WGN employs the brightest minds, the best professionals and motivated personnel to drive its business and create sustainable and valuable opportunities for its distributors worldwide.
Using innovative products and a proven, direct selling business model, Word Global Network helps its distributors around the world to transform their lives, and their familys livelihoods. For more information please visit www.worldgn.com.