Ingrid Riegler From Austria Achieves Saphir Leader Rank With VABO-N
January 16, 2019
By Team Business For Home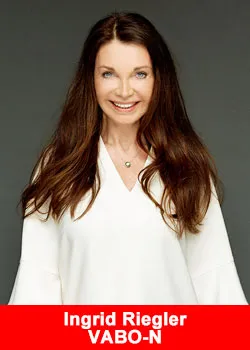 When Ingrid Riegler was the host of a popular Austrian TV program, she was better known than the country's president.
After her work in TV which spanned multiple decades, she used to work as a therapist and book author and is now a top leader at VABO-N.
After Riegler stopped her TV career, she found her calling by studying nutrition and working in the health sector. But she soon realized that working as a therapist will never cover her desired lifestyle and won't be convenient later on – since she happily states that she wants to become 120 years old.
So MLM came into her life – and she brought it to success.
Her involvement with VABO-N started right at the beginning in 2015, when the company was founded by Martin and Nina Dvoracek. The experienced MLM leader Riegler immediately saw the huge potential VABO-N had to offer and wanted to become a part of it.
"I have been looking for the right products for years. The market for nutritional supplements is huge, but I could never find exactly what I was looking for.

VABO-N products are natural, science-based and highly-dosed all-in-one nutritional supplements – liquid, easy and tasty – perfect for everyday use and a proper alternative to taking 10-15 supplement pills a day.
I loved the products from the start and when I saw the compensation plan I knew that I could build something big by partnering up with VABO-N as a brand ambassador."
The reason why she enjoys working as a VABO-N brand ambassador so much? "I love it, honestly, I will never stop.
It is amazing to be able to help people to improve their lives in so many ways, not only financially but also health wise.
VABO-N contributes to your life on so many levels!"
Thanks to VABO-N she not only has a proper 5-figure income every month but also travels the world on incentive trips with VABO-N or on her own – all things that wouldn't have been possible by working as a therapist.
About VABO-N
VABO-N stands for "Valuable Body Nutrition". The Austria based company was founded in 2015 by Martin and Nina Dvoracek.
The VABO-N founders – who earlier successfully built a 5000+ team in MLM – are convinced that for a better and happier life, we need both health and a certain income in order to achieve our goals and dreams.
This is the basis on which VABO-N was founded: a network marketing company offering high quality nutritional supplements which have the power to sustainably improve the lives of many.
The company is currently not only shipping their innovative all-in-one body nutrition products to Germany, Austria and Switzerland, but also to Slovakia, Spain, Italy, Luxembourg, Liechtenstein and the Netherlands – with more countries to come! VABO-N offers business opportunities in all of those countries.
For more information please visit: www.vabo-n.com