2,000 People Attended The 4Life Europe Convention
February 26, 2019
By Team Business For Home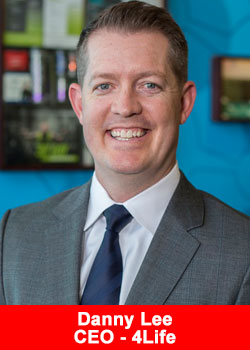 More than 2,000 people attended the sold-out 4Life Europe convention, "Together 2019." The event was held in the Palacio de Congresos de Valencia in Valencia, Spain, and included a second venue hall to account for overflow.
The event included the launch of Energy Go Stix® Tropical, 4Life Transfer Factor Reflexion®, 4LifeTransform® Man, and 4LifeTransform® Woman.
Attendees heard from 4Life Founders David and Bianca Lisonbee, President and CEO Danny Lee, and Chief Scientific Officer Dr. David Vollmer, as well Platinum International Diamond Dr. Herminio Nevárez. Distributors were recognized for their achievements, and many shared their stories on stage.
Paraolympic swimmer and mulit-medalist Teresa Perales was the convention keynote speaker. She shared an inspiring story of perseverance and hope in the face of tremendous obstacles. She is the most decorated Spanish Paralympian in history.
Vice President of Europe Rafael Fernández: "4Life is expanding throughout Europe. This convention showed how excited distributors are to share 4Life products. They were thrilled to have David and Bianca in Europe for the first time in nine years. 4Life has a strong presence on the continent and will continue to grow. I look forward to what the future holds."
Distributor leaders in attendance also included Platinum International Diamond Yadira Olivo and Gold International Diamonds Nidia Pinzón López, Carme Solà Xalabardé, Maris Dreimanis, Tatiana Yachnaya, Àngels Muñoz Estape, Lourdes García, Barbara Wagner, José Martín and Zoraida Rosado, Larisa Isakova and Dmitriy Isakov, and Clementina Nena Beron.
4Life Global corporate representatives in attendance also included Vice President of Sales and Field Development Preston Richards, Director of Marketing and Sales Initiatives Matt Lisonbee, Digital Marketing Manager Dana Fortune, and Service Ambassador Jenna Lisonbee.
4Life has offices in 25 markets to serve a global network of independent distributors and their customers.
About 4Life
In 1998, 4Life Founders David and Bianca Lisonbee launched the companys flagship immune system support product, 4Life Transfer Factor.
As the first network marketing company to do so, 4Lifes leading group of doctors, scientists, and researchers continue to advance immune system science with innovations in product formulation, production standards, delivery methods, and more. Today, people in more than 50 countries enjoy the immune system support of 4Life products.
For more information please visit www.4life.com