Univia Leverages Celebrity Social Influencers For Brand Awareness
March 5, 2019
By Team Business For Home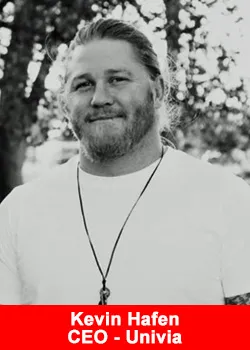 One of the biggest obstacles for startups is figuring out how to let people know you even exist. With Univia's founders having experience in building online brands for themselves and celebrities this challenge becomes less of a huge undertaking.
Working with well known Instagram influencers for authentic reviews has resulted in genuine followers for the company, stirring curiosity for the product and awareness of the brand, but it doesn't stop there.
Using the existing relationships from some of the founders, high profile celebrities have embraced Univia's branding.  Univia will be running brand awareness contests with celebs like the Kardashians along with many others to be announced in the near future. This unique spotlight will also help our own community of influencers build their Univia businesses.
Why use social celebrities and influencers?
According to SocialBakers, 86% of millennials say that user-generated content is a positive indicator of brand quality. Further, millennials trust user generated content 50% more than original content created by brands.
In a classic case of quality over quantity, the Socialbakers' study indicates Instagram's 700 million users are much more engaged than Facebook's 2 billion users.
"We recognize that while we are building our own tribe of influencers, having this content pushed out by collaborators is going to be most beneficial to the company and to our tribe so it will be easier for them to talk about Univia.

We want to master all aspects of social media and pass our knowledge and experience onto our community. We have a fantastic marketing opportunity that others just don't use appropriately."
says Kevin Hafen, CEO of Univia.
"The power of Instagram is undeniable and it's a tool that we plan to maximize." says Hafen.
Univia's social media long term strategy also includes platforms such as Facebook and Twitter, capitalizing on their current tools and trends offered to businesses.
About Univia
 Univia is a leading social selling company distributing cutting edge wellness and personal care products. The company is headquartered in St. George, UT. For more information about Univia's products or opportunity visit www.univia.com or contact info@univia.  
You can follow Univia on Instagram https://www.instagram.com/univiaofficial/.