Neora Introduces Innovative New Sunscreen
April 26, 2019
By Team Business For Home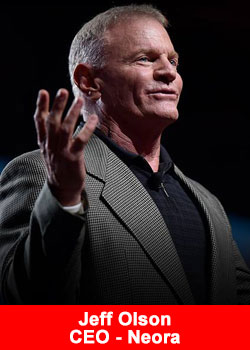 Anti-aging leader Neora has achieved a new standard in suncare: An effective, broad-spectrum sunscreen that people actually enjoy wearing.
Age IQ® Invisi-Bloc™ Sunscreen Gel is a daily, broad-spectrum SPF 40 that provides protection from premature aging due to the sun's ultraviolet rays, digital blue light from smartphones, computers, TVs and LEDs, and environmental stressors, such as pollution and smoke. Invisi-Bloc can be applied as the last step of your morning skincare routine and used as a primer before makeup, if you wear it.
The clear formula absorbs quickly and easily without any of the streaks or residue associated with typical sunscreens. Ingredients such as Kapaphycus alvarezii extract and Caesalpinia spinosa fruit extract also help Invisi-Bloc create a smooth and perfecting finish for both women and men.
"We all know that wearing a daily SPF is what's best for our skin — not only to prevent early skin aging but also to prevent the kind of sun damage that leads to a lot of skin issues,"
says Amber Olson Rourke, Neora Co-Founder and Chief Sales & Marketing Officer.
"But most people don't like the feel of a traditional SPF. It's thick, it clogs your pores, and it doesn't have the nice feel of a moisturizer."
Neora spent more than three years developing and perfecting Invisi-Bloc, which uses Innovative Encapsulation Technology to create microcapsules of SPF actives that absorb easily and filter skin-damaging light. The formula also includes a proprietary Eco-Veil™ ingredient that mimics your skin's natural barrier to provide a powerful, transparent layer of protection, as well as an antioxidant-rich complex of vitamins and plant extracts.
"It feels lightweight, it's invisible and it protects against every kind of harmful ray, from the sun's UVA and UVB rays to harmful digital blue light from your computer, smartphone or TV,"
Rourke says. "And the best part is, you won't even notice that you're wearing it."
Key Ingredients/Technology
Eco-Veil™— A proprietary blend that mimics the skin's natural barrier, forming a clear shield to  to protect the skin from blue light damage and pollution.
Antioxidant Complex– A combination of vitamins E and P (bioflavonoids) and aloe and broccoli.
Innovative Encapsulation Technology– A process that creates microcapsules containing UVA and UVB filters that quickly and easily absorb the skin, creating a super-smooth feel.
Invisi-Bloc uses environmentally friendly SPF actives (no oxybenzone or octinoxate). It is vegan and free from parabens, synthetic colors or fragrance, propylene glycol, gluten, sulfates or GMOs.
Invisi-Bloc ($59 retail/$44 Auto-Delivery Order) will be available for purchase May 1 in the U.S. through Independent Brand Partners or at neora.com.
Visit www.neora.com/spf for more information.
About Neora
Based in Addison, TX, Neora is a global relationship marketing company with age-fighting products crafted from cutting-edge research and science. Founded in 2011 as Nerium International, Neora has shattered industry sales records while developing a strong customer base in North American, Latin American, Asia-Pacific and European markets.
Neora is committed to providing an excellent product line based in real science and providing its Independent Brand Partners with a life-changing and outstanding business opportunity through relationship marketing.
For more information, please visit: www.neora.com