Dan & Lucy Culverwell Achieve Executive Ambassador Rank With Onyx
July 17, 2019
By Team Business For Home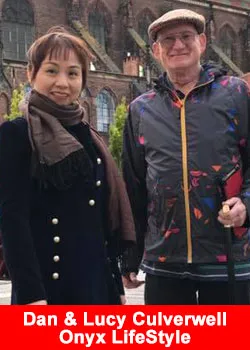 Powerhouse Leaders Dan & Lucy Culverwell have partnered with Onyx and hit a top rank of Executive Ambassador in their first week. They have built successful teams that total over $600 millionin sales and teams that include almost 500,000 people.
An Executive Ambassador in Onyx generates over$250,0000 of sales revenue over the course of a 4-week period.
Dan and Lucy have over 50 years combined as network marketing professionals and currently reside in California. They met in Hong Kong and have been married for 12 years.
Together, they have been exceptional examples for their teams. Both have a background in writing, teaching, and language which allows them to communicate and help their team members be successful.
"I learned about network marketing and joined a couple of product-based companies. I had success in these companies but found it a struggle to be really successful.

I joined a digital-products-based company and found that I was much more successful."
stated Lucy Culverwell.
"When we learned about the global scalability of Onyx, we were even more excited because the majority of our team members are Asian, located around the world.

Then, learning about the product and services behind the digital membership and how we can help so many people. We knew that this lifestyle company was special and that's why we partnered with Onyx since the inception."  
stated Dan Culverwell.
Dan and Lucy's goal is to make Onyx a multi-billion dollar company in a few short years.
They joined Onyx in the early stages of the company thanks to one of our other Founding Members, Romacio Fulcher, and were in attendance at our Dubai Collective launch event along with many of their team members.
Tips from Lucy and Dan:
Turn off your TV
Have a vision
Have Passion & focus
Be willing to help others to be successful
Onyx President Tuffy Baum had this to say about Lucy and Dan:
"Dan and Lucy are a great example of servant leadership. Their tireless efforts to support their teams is a perfect example of why they are very successful and admired among their colleagues in the field.

Onyx is proud to have this fantastic couple as Founding Members in Onyx Lifestyle."
While Onyx has brought together a powerful offering to its members by way of an exclusive digital membership. The vision the Founders have brought to the table has only been elevated by the Foundering Members of Onyx.
Dan and Lucy understood the vision and how Onyx can change many people's lives by providing high quality services, luxury lifestyle benefits with the digital membership that has no limitations.
Travis Bott, Founder of Onyx stated:
"Lucy and Dan are one of the hardest working couples I have had the opportunity to work with, during our Asia tour we met with close to 1,000 people from their teams in a few short days and it was incredible to see their passion as well as the respect their team members have for them.

It is no surprise that they have been so successful and have continued their success with Onyx. "
ABOUT ONYX
 We are a company built around bringing luxury level services to the average person. When you become a member of Onyx, you will gain access to a digital platform built to save you time, money, increase your wealth, and provide you VIP treatment previously reserved only for the elite.
Currency Management Platform: Global banking through your personal account. Connecting you to all the services you need.
Onyx Premier Card: As part of your Onyx Lifestyle Membership, you will receive a Premier Membership Card. It's not just a card, it's a key to luxury. There are several membership tiers so you can choose what is right for you.
Crypto Conversion: Let us help you bridge the fiat and crypto markets world wide. Buy, Sell, and use Crypto. Connect your crypto wallet to your everyday activities.
Luxury Benefits: You will receive exclusive access to VIP events that you normally wouldn't have access to. Whether it's sporting events, fashion, movie premiers, concerts, nightlife, etc. Whatever your interests, we will help you gain exclusive access.
LQD8 Blocks: Put your money to work through the micro-lending program that allows you to participate in providing liquidity loans to the crypto market.
Wholesale Travel: Book travel through our powerful booking engine or with your personal Onyx concierge. Get access to the best wholesale travel pricing in the world. Please visit our website for more information: www.uao.onyxlifestyle.com Get more information, facts and figures about Onyx Lifestyle, click here for the Onyx Lifestyle overview.