OneCoin Ponzi Victims Submit A Lawsuit In New York, USA
July 12, 2019
By Team Business For Home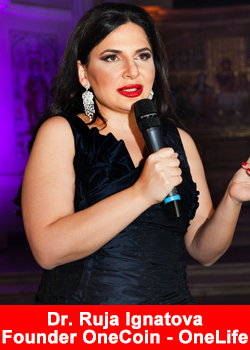 After the arrest of Konstantin Ignatov, brother to the highly sought-after CEO of OneCoin, those who fell for the scam are already in court.
One of them, believed to have lost more than $750,000 in the scam, has filed a lawsuit, suing the Ponzi scheme, Onecoin Ltd. Ruja Ignatova, Konstantin Ignotov, Sebastian Greenwood and Mark Scott.
The lead plaintiff, identified as Donald Berdeaux, pumped about $755,918.92 into OneCoin, according to documents currently in a Manhattan court. He invested the entire chunk between August 2015 and May 2016, investing an estimated $76,000 a month during the entire period.
By November 2015, Berdeaux has deposited $252,096.32 in the scam, an amount he later topped up with $504,822.60. He, however, isn't the only victim, as more and more people continue filling their complaints.
Another co-complainant lost over $100,000.
Another complainant, identified as Christine Grablis, an already proposed co-lead plaintiff, lost over $100,000.
According to the evidence filed in the lawsuit, Grablis poured $64,813 into it between August and November, 2015.

Between January and August, she added $38,765, bringing the entire amount to $103,578.
OneCoin, a Sofia-based crypto scam project, was headed by Ruja Ignatova, Ignatov's sister who has since gone underground. Konstantin Ignatov, meanwhile, denied the charges of wire fraud last month and was denied bail, despite offering a $20 million personal recognizance bond. According to the FBI, he's best kept in custody as he could be a flight risk.
While filing the lawsuits, however, both appellants believe that no other victim suffered the biggest loss among those who fell for the scam. Those who've already been listed as among the defendants in the case include Konstantin Ignatov who is currently behind bars.
OneCoin is believed to have generated about $3.8 billion in revenues in the two years it was operating. The scheme was launched in the last quarter of 2014 and run up to the 3rdquarter of 2016, when it was finally brought down.
Among those who invested in it, the lure of rapid growth through its multi-level marketing approach was too enticing to ignore. Basically, recruits were to earn from it by attracting, recruiting and selling educational materials to other naïve investors. Interestingly, the same material they sold to new recruits was nothing more than content lifted off the internet and the Wikipedia.
The prize for winning a new recruit was a commission of between 10% and 25% of the cost of the educational material sold. Surprisingly, the scam is still happening today with some websites selling copies of the material for between €110 and €55,555.
As reported by BitcoinExchangeguide.com