Kevin Thompson: The DSA's statement About CBD Supplements Is Trash
August 2, 2019
By Team Business For Home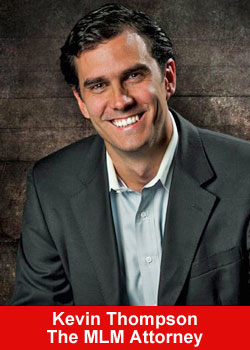 Kevin Thompson – The MLM Attorney stated on his facebook:
The DSA considers the sale of CBD supplements violative of their code of ethics.
In my opinion, this measure seems more motivated by anti-competitive reasons than legitimate legal concerns. I have a suspicion that some of the larger companies are tired of losing people to CBD-based companies and they wanted something done about it. There's a base of companies in our industry that prefer to compete via policymaking than actual competition.
In the DSA's statement, they mischaracterized the state of the law in the CBD field. The FDA has acknowledged, in so many words, that the "floodgates have been opened" and that regulation is coming regarding the over-the-counter selling of CBD supplements. In the meantime, it's gray.
It is true that the FDA has issued GUIDANCE on the subject. But guidance is NOT law. And if it were to become law, it would be met with serious challenge from all over the country, particularly at the state level for states (like Tennessee) looking for new ways to juice up tax revenues.
Also, the FDA has not initiated a SINGLE enforcement action against a company solely for selling CBD products. Instead, they've sent warning letters to companies that make disease claims (a problem that those of us in the industry are already aware of).
So with that, the DSA's statement is more like virtue signaling. Or stated another way, it's just trash.
About The Direct Selling Association
Direct Selling Association (DSA) is the national trade association for companies that market products and services directly to consumers through an independent, entrepreneurial salesforce. DSA serves to promote, protect and police the direct selling industry while helping direct selling companies and their independent salesforce become more successful.
We started in 1910 as the Agents Credit Association by a group of representatives in Binghamton, New York hoping to resolve issues with agents unable to collect payments. Today we provide members various services from educational materials, access to industry research, networking opportunities, professional development, and other support programs. We work with Congress, government agencies, consumer protection organizations and others on behalf of our nearly 130 member companies. One of the most pivotal roles we play is through our commitment to self-regulation and our Code of Ethics.