Patricia Andersen One Of The Longest Standing Leaders In Zija International
August 9, 2019
By Team Business For Home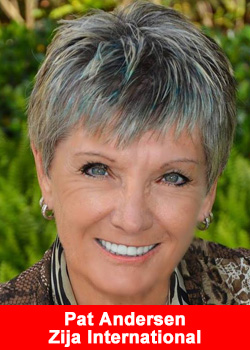 One of the best examples of success in direct marketing, among entrepreneurial women is Patricia "Pat" Andersen.
Her work ethic and business acumen have earned her top billing in her category, throughout her entire career.
At 62 years wise, this wife, mother, and grandmother of nine, has more energy, focus, and drive than most people in their 30s or 40s. Pat is truly a leader of leaders.
Far from any city, Pat and her husband call a horse ranch in Oklahoma, home.  Devoid of notable population, Pat has built a global empire with thousands of distributors from numerous countries on multiple continents. She doesn't make excuses. A master of technology, Pat utilizes social media and online face to face LIVE meetings to present, train, and communicate – in the comfort of golf or casual attire. 
One of the longest standing leaders in Zija International, with over a decade of top performance.  When asked for her business philosophy, she replies,
"Put your teammates first. The success of the group is paramount; along with recognition and acknowledgment".   
Fueling that fierce passion: Pat is a loyal customer with the entire Zija product line, from supplements to the finest essential oils, and revolutionary CBD transdermal squares.  
In the 1990s, Pat received a scare, in the form of a personal health wake-up call. She made the decision to resume control of her own wellness, and cheated her diagnosis from claiming her life. She was able to achieve this with the science of nutraceuticals. Pat enjoys paying it forward, enabling others to reclaim health and vitality, and experience financial freedom.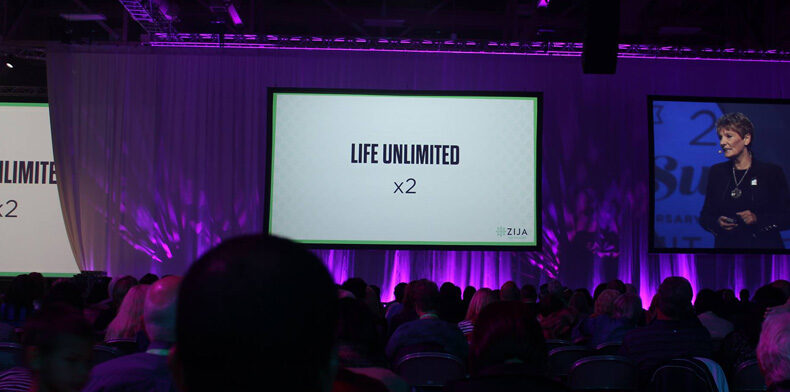 In her eleven years with Zija, Pat Andersen has achieved Diamond Elite status. She didn't do this alone. Fred Holmes sponsored Pat. Early on, he noted her strong drive to succeed and ability to overcome every obstacle. 
Her key mentor is David Moses, Master Distributor.
"David provides superb upline leadership. No matter where he is around the globe, he is available and able to be the compass I need. By far, he is one of the most amazing leaders in the network marketing industry,"
adds Pat. Currently David Moses is assisting Pat in developing teams in Israel, where they are experiencing tremendous growth.
"Thanks to Zija corporate for running a five-star, world class organization. CEO Jeremy Redd is supported by a highly seasoned executive team, who are committed to the success of everyone involved. My team continues to grow rapidly – worldwide,"
states Pat Andersen. 
Pat's 11 Daily Fundamentals for Success
Know, believe in and use your company products

Customer service is paramount for development AND retention

Consistency in sponsoring new builders and customers

Plug into the corporate culture and system for success

Support the team and culture of rank advancement 

Time = money. Manage your time and productivity

Recognition of success is built into our culture

   

Product knowledge and promotion is ongoing

Having a goal and a plan is important for every builder

Personal development builds leaders and improves one's self

Time to rejuvenate is mandatory, and non-negotiable
Pat additionally shared her favorite quotes: 
"I didn't get there by wishing for it or hoping for it, but by working for it."  Estee Lauder
"Take care of your body. It's the only place you have to live."   Jim Rohn
Pat's personal motto is  "It's all about health naturally". 
"My goals for the next 24 months only get bigger. By devoting a part of each day to personal development, I will attain my goals and become an even better leader.  None of us went to school to become network marketers, so I position myself to learn from those with the expertise to help me achieve my (and my team's) dreams!"
"Regardless of your industry, product or success, no one should ever stop learning.  We can always become better. I am striving to identify and develop more leaders to work alongside me, as we help Zija become the next billion dollar legacy – while we reach for the stars", states the one, Pat Andersen.  "Remember, we can all be the ONE, to someone!"
About Zija International
Zija International, a privately held and privately-funded business founded by Kenneth E. Brailsford and led by President and CEO, Jeremy Redd, develops natural health, wellness, and beauty products. The company operates in more than 50 countries worldwide, pioneering the #NaturalHealthRevolution to help individuals achieve Life Unlimited.
Zija has seen consistent growth every year since it was founded over a decade and has received several awards, including and being named the Fastest-Growing Company in Utah' by Utah Business Magazine.
It has also been recognized on fastest-growing and top-revenue lists by Inc. Magazine, Direct Selling News and Utah Valley Magazine, and has received industry-specific MarComm, American Business (Stevies), and Davey Awards.