Cindy Feaster Achieves Crown Ambassador Status At Elepreneurs
September 9, 2019
By Team Business For Home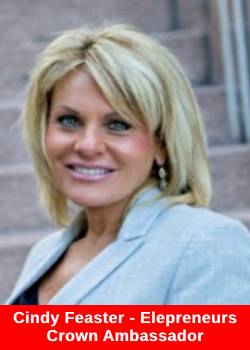 Twenty-one months. That's how long it took for Cindy Feaster to completely change her life. Less than two years. "I have always been successful, strong, and competitive," Cindy says. "But I never really found what it was that I dreamt about at night, even with a very successful career as a high-end sales executive at a respected Fortune 1000 company." Even with all the accolades, the recognition, and the success, Cindy felt something was still missing.
At the time, Cindy worked anywhere from 40 to 70 hours a week just to stay at the top of her game. "I was winning, but I was building someone else's dream, not my own," she says.
In 2013, with her children out of the house, Cindy and her husband moved from Ohio to Florida, and Cindy took another sales job there. But the change of scenery didn't alleviate the stressors of corporate America, and "even though I was wildly successful, I found myself putting in the same kind of hours as my job before," she says. "I was unhappy and depressed, and I needed help."
And then, like so many others, Cindy got introduced to Elepreneurs and its products.
"Not only did my life start to feel elevated, but I began losing weight—no longer were my cravings and emotional eating controlling me,"
she says. "I started to notice that I felt more rested with less sleep, my mind seemed to be more alert and focused, no more knee pain in my left knee, the hubby and I were back in the gym."
Excited by her and her husband's transformation, Cindy began sharing the products with others. "Messages started rolling in from friends and family, colleagues and peers," she says, "testimonies of how their lives were being changed because of these products. I knew that we were onto something."
Then, in April 2018, Cindy took her own huge leap of faith. She resigned from corporate America.
"I would never be working someone else's dream again, but would be chasing my own,"
she says. "From the beach, by the pool, or wherever we wanted to be, I would be able to share my passion to help others."
Less than two years later, Cindy still can't believe how much her life has changed. "If someone had told me that a gal with zero experience in the network-marketing industry would be leading one of the top teams in the entire company, I wouldn't have believed it," she says. "We are thankful every day for this incredible opportunity and blessing."
About Elepreneurs
Elepreneurs is on a mission to elevate your health, wealth, and happiness. We help you elevate your life through patented nutritional products, life-changing virtual success training, and a unique rewards program.
Elepreneurs actually builds happiness right into our powerful nutritional products. The superior, scientifically backed ingredients stimulate the happiness hormones — dopamine, oxytocin, serotonin, and endorphins — which we refer to as D.O.S.E. For more information, visit www.elepreneur.com.