Dennis Kong Achieves Crown Ambassador At Onyx LifeStyle
September 11, 2019
By Team Business For Home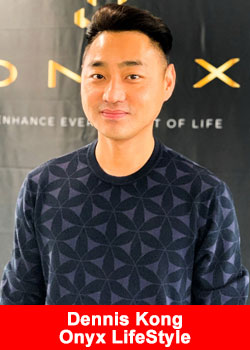 Dennis Kong joined Onyx with an explosive start and earned over $100,000 in his first 4-weeks. He also achieved the rank of Crown Ambassador (750,000 in sales volume in a rolling 4-week period). 
Dennis resides in Diamond Bar, California. He has lived all over the world while building teams 30 different countries in the Network Marketing industry since June of 2005. He has also been the top producer for different companies.
Dennis has a great influence in South Korea, Japan, Taiwan and many other surrounding countries. As a young entrepreneur, his teams consist of highly motivated and millennial entrepreneurs in the Asia market. 
The reason he joined Onyx? The vision of a unique lifestyle. Which falls in line with the vision he has for his team, to have fun and live a life full of enjoyment. He sees Onyx being the Amazon of network marketing.
Another reason he partnered with Onyx was because of the innovative services for crypto currencies, the multi-currency wallet and a global business. 
 We asked him, "What four tips do you have for young entrepreneurs or people looking for success in network marketing?"
Find something that you can enjoy, if you don't enjoy it. It's not worth doing. 

Enjoy your failures, they are incredible learning experiences.

Persistence and never give up.

Map out very clear goals. 
Dennis has a reputation of creating wonderful leaders, and he does it with the mentality of,
If others are not successful and giving value to others around the world than leaders at the top are not truly successful.

People around the world have a need for the Onyx services for their financial situations and deserve the lifestyle they want. 
When asked why should someone get involved with Onyx right now?
 His answer was this… "Timing is everything. Onyx is a brand new concept to the network marketing industry. It's also disruptive in the crypto industry. Yes, the name might be new, but the strategic partners have been working on these solutions and providing quality services to customers prior to the exclusive partnership. They are credible and coupled with the reputations of the Corporate team, I know they are working in the best interest of our members. 
Founder, Travis, is an innovator. President, Tuffy, is the best operator I ever experienced, I have many years of experience working with Kyle and Jake. They are the best at what they do. Also, Kaci creates fantastic design for marketing!
If you haven't been to a Collective, you need to experience it first-hand. I was in Dubai for the launch and it was so fun. Being in the industry for 14 years, it was different than anything I had experienced. If you have the opportunity to go to Singapore I would highly recommend it and use the Onyx Travel Portal for cheaper flights!
* Disclaimer: Individual results will vary depending on successful product sales, which requires hard work, dedication, good sales skills, and leadership. Any bonuses, commissions, or other amounts reflected shall not be considered as guarantees or projections of your actual earnings or profits with this business.
ABOUT ONYX
We are a company built around bringing luxury level services to the average person. When you become a member of Onyx, you will gain access to a digital platform built to save you time, money, increase your wealth, and provide you VIP treatment previously reserved only for the elite.
Currency Management Platform: Global banking through your personal account. Connecting you to all the services you need.
Onyx Premier Card: As part of your Onyx Lifestyle Membership, you will receive a Premier Membership Card. It's not just a card, it's a key to luxury. There are several membership tiers so you can choose what is right for you.
Crypto Conversion: Let us help you bridge the fiat and crypto markets world wide. Buy, Sell, and use Crypto. Connect your crypto wallet to your everyday activities.
Luxury Benefits: You will receive exclusive access to VIP events that you normally wouldn't have access to. Whether it's sporting events, fashion, movie premiers, concerts, nightlife, etc. Whatever your interests, we will help you gain exclusive access.
LQD8 Blocks: Put your money to work through the micro-lending program that allows you to participate in providing liquidity loans to the crypto market.
Wholesale Travel: Book travel through our powerful booking engine or with your personal Onyx concierge. Get access to the best wholesale travel pricing in the world. Please visit our website for more information: www.onyxlifestyle.com.