VYVO Crushes Sales Forecasts, Taking In $15 Million In 3 Months
September 25, 2019
By Team Business For Home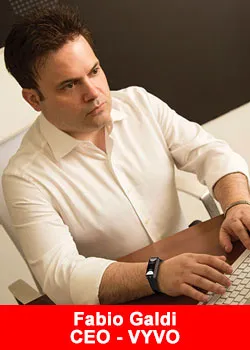 VYVO has exploded into the technology space and network marketing profession with some unprecedented levels of achievement in such a short period of time.
It seems unmistakable that the visionary and creative genius of the VYVO President and CEO, Mr. Fabio Galdi, has established a standard of leadership that is inspiring the entire organization.
Even at this early stage of VYVO's founding, their Vision Statement sets forth clearly a powerful trajectory of becoming one of the most innovative and influential technology companies in the world, in the next 5 years.  This vision is guiding every decision and strategic initiative that is responsible for helping this young company make an immediate impact.
The following list of accomplishments and announcements gives an obvious indication of VYVO's momentum of the last 3 months:
Total sales of $15 million
Nearly $8 million paid out in distributor commissions
Technology headquarters in Silicon Valley, California
Network marketing headquarters in a dedicated building in Salt Lake City, Utah.This also includes a significant connection to Utah's formidable tech hub, known as Silicon Slopes.
Recognition of 11 President Millionaires and Double President Millionaires
Presentation of 3 elite luxury cars including a Ferrari Portofino
In the words of Mr. Galdi,
"We feel humbled at what VYVO has accomplished in such a short time.  We have an amazing partnership with terrific distributor leaders and countless numbers of grassroots team members.
And, this is only the beginning.  From our shared commitment of leading from the heart, we see massive momentum in the near future for our VYVO family.  Our authentic combination of cutting-edge technology and network marketing is helping us write an historic story of business success, entrepreneurial leadership, a revolutionary way to manage daily health, and self-development victories that are allowing so many of our distributors to have more freedom and life choices than ever before."
Only a couple of days ago, on September 23, 2019, another resounding VYVO success was accomplished in stellar fashion.  On the occasion of the VYVO Japan Grand Opening/Asia Convention, nearly 4,000 people from Japan, Taiwan, Hong Kong, China, other Asian countries, Europe and the USA were in Tokyo to give a resounding show of unwavering support for the founding of VYVO and the impressive growth which is already occurring.
A significant technology launch gave even more excitement to this event with the introduction of one of the world's most advanced smart watches, the VYVO Vista+.  This new wearable device not only contains innovative tech features but it sets new standards for functional creativity and excellence.
That wasn't the only announcement that caused a fired-up crowd to roar its approval. A new dietary supplement created with game-changing nutritional technology was also introduced to the public.  Sugar Buster is a proprietary formula of amino acids, biotin and chromium that helps your body "kill the sugar.:" This one-of-a-kind product helps reduce the blood sugar spike after a meal by, on average, 25-35%.
The electrified atmosphere in the event hall continued with the launch of the VYVO Token, an essential element of a dynamic Big Data project.  This initiative has been implemented to create a data streaming system based on anonymized individual health and wellness biodata, captured directly from VYVO wearable devices in real-time.  This highly valuable data ecosystem will result in a monetized valuation as a direct result of the worldwide use of VYVO technology and continuous monitoring and recording of biometric health data.
The power of VYVO's creative strategies and business development vision is creating a brand new home and community for people around the world who are captivated by a compelling combination of technology achievements and entrepreneurial business opportunities.  With the impeccable timing of VYVO's entry to the global marketplace, the momentum and growth curves are opening the path to thousands of new personal freedom stories.
About Vyvo
Vyvo headquarters are based in Singapore, with US offices in Miami, Florida, and Provo, Utah.
Vyvo stands apart as a fast-growing company and a leader in the Network Marketing Industry. In its ten offices distributed across the globe, Vyvo employs the brightest minds, the best professionals and highly motivated personnel to drive its business forward with the most exceptional quality and creating sustainable and valuable opportunities for its distributors worldwide.
Using innovative products and a proven, direct selling business model, Vyvo helps its distributors around the world to transform their lives, their livelihoods, and that of their loved ones. For more information please visit www.vyvo.com