iBüümerang Ambassadors Sign up 344,000 Customers
January 14, 2020
By Team Business For Home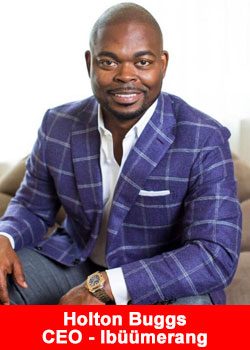 It was just ten months ago when Holton Buggs revealed the iBüümerang brand to the world and four months since the company's official launch.
Since that time, ibüümerang has been shattering network marketing records in multiple categories. Introducing a completely new concept of monetizing savings, where Ambassadors only earn when customers save money, here are just some of the ibüümerang accomplishments at the time of writing:
344,710 customers
39,137 active Ambassadors
$11.2 Million in travel bookings, representing 39,737 unique travel experiences
Almost $1M ($.96 Million) in travel savings
Over 4 Million servings of proper nutrition to severely undernourished children
A community center and playground renovated in Colombia that serves over 4000 children
What's even more exciting is the number of promotions and rank advancements represented by those numbers:
221 Sapphires
59 Rubies
28 Emeralds
21 Diamonds
4 Blue Diamonds
1 Presidential Diamond
Mr. Holton Buggs had this to say,
"While the numbers are good and exciting, we are much more excited about what's behind the numbers, people whose lives are being positively impacted by being a part of ibüümerang."
Mr. Buggs is very excited to welcome over 8000 Ambassadors to Houston, Texas for the ibüümerang Xccelerate Conference in February.
The Power-Packed Agenda Includes:
The Pre-Launch of VibeRides (ibüümerang's Ride Share vertical) into the Texas market
Recognition of all ranks from Director to Presidential Diamond
Recognition of the top customer acquirers
High Impact "How-to" Training from top producers
Exciting new promotions, corporate reports, updates and vision-casting for the company, The BüüM Foundation…and much more
About ibüümerang:
Officially launched on September 1, 2019, ibüümerang is taking an evolved approach to direct selling by leveraging a unique combination of technology and services to support Ambassadors to succeed.
Our vision is to be a consumer-centric company focused on the philosophy of giving back. Our mission is to create a worldwide movement to empower people via the PRIB™ (Perpetual Residual Income Builder), to leave a legacy to future generations, and to support The BüüM Foundation in providing an abundant life for every child on the planet. For more information on ibüümerang, its top tier executive team, and its overarching philosophy, please visit the company website at www.ibuumerang.com.
Recommended Distributors iBuumerang