MLM Leader Freddy Fehr From Peru Joins QuiAri
February 18, 2020
By Team Business For Home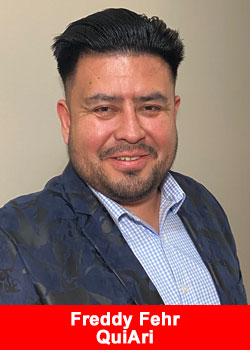 What defines success? QuiAri Promoter Freddy Fehr learned that it means more than just money. Freddy, who was born in Lima, Peru, grew up in a military family and moved around a lot as a child. That meant he was always making new friends every time they relocated.
When he thought about his career choices after college, the sales industry seemed like a good place to start. The earning potential was high and he enjoyed helping people, so Freddy pursued a career in auto sales. Being young and ambitious, he worked 70-80 hour weeks to quickly climb up through the ranks and earn the coveted General Manager position.
Money started rolling in, but the nature of the business left little time for his wife and daughter at home. It felt like the more success Freddy had at work, the more strained his relationship became with his family. One day, a friend from the auto dealership introduced him to the direct selling industry.  As a natural-born leader, he quickly rose up the ranks.
While the MLM industry provided him with money and time freedom, there was still one major element missing from his life: stability. Freddy had been searching for an MLM company with huge growth potential and leaders he could learn from. After 15 years in the industry, Freddy found exactly what he had been looking for – QuiAri.
"I had the pleasure of meeting QuiAri's leadership team, including CEO and Founder, Bob Reina. Any fears and doubts I had immediately vanished. This is a company with the resources to potentially be around forever.

Bob is lightyears ahead of what everybody else in the business is doing. I believe it's because he invests heavily in innovation. From state-of-the-art technology to streamlined marketing tools, Bob has the ability to reach major milestones in weeks in what takes other businesses years to achieve,"
stated Freddy Fehr.
Freddy points to QuiAri's global expansion as an example. After just four months in business QuiAri has reached over 100 countries worldwide. Their 90-Day Kickstart Challenge has become a global phenomenon with testimonials pouring in from everywhere. QuiAri is available in all major markets, and is now working to make their products even more accessible around the world. They recently opened an office in the Philippines and have established Promoters throughout nearly every country in Africa.
Freddy is currently taking QuiAri's 90-Day Kickstart Challenge and predicts the taste combined with the effectiveness of the products will only generate more buzz in outlying markets.
"After reading all of the testimonials, I was curious to try the Kickstart Challenge. Everything you hear is absolutely true. The Shakes tastes delicious and start working almost immediately! And the pills give me so much energy. I lost three pounds within a week and somehow it managed to curb my sweet tooth. I used to be a heavy soda drinker. After starting the Challenge, all I crave now is water. We're going to help a lot of people around the world take control of their health" 
QuiAri offers a unique opportunity for people that love the 90-Day Kickstart Challenge to get paid to promote it. Freddy predicts there will be a fast rise in the number of Promoters worldwide as word spreads about QuiAri's generous Comp Plan.
"The products are catching on like wildfire. If you love QuiAri products you should be getting paid to promote them. Plus, QuiAri is the only company in the health and wellness industry offering Same Day Pay, that's commissions paid in just 5 minutes or less and they have a referral program (Three and It's Free) where you can get your products for free every month," 
Freddy is looking forward to the future. He's excited about the direction the company is going and looks forward to helping more people improve their health and wealth.
QuiAri is on the verge of becoming a billion-dollar brand and we haven't even been in business for 5 months. We're on a mission to change people's lives and we're seeing it happen before our eyes. On a personal level, I'm exactly where I want to be right now. I have the work-life balance I wanted and, as a Promoter, my job is to help others achieve it too,"
stated Freddy Fehr.
About QuiAri
QuiAri provides life-changing opportunities that empower people to feel their best so they can live their best. Their breakthrough health and wellness products are made from an exclusive extract of the maqui berry, the world's new number 1 superfruit. Plus, QuiAri offers opportunities to receive Same Day Pay just by sharing their products with others. Try. Love. Share!
To learn more about QuiAri, or to get in touch with a Promoter, visit QuiAri.com.
These statements have not been evaluated by the Food and Drug Administration. These products are not intended to diagnose, treat, cure or prevent any disease.
Income Disclosure Statement
Please note the QuiAri business opportunity offers unlimited income potential. However, QuiAri makes no guarantee of financial success. Success with QuiAri results only from successful sales efforts, which require hard work, diligence, skill, persistence, competence, and leadership. Your income will depend upon how well you exercise these qualities.
 As QuiAri is in its first year of business operations, we do not have sufficient statistical data to prepare complete, first-year income disclosures. A more detailed survey will be conducted after our first year of business. If income projections were presented to you prior to your enrollment, such projections are not representative of the income, if any, that you can or will earn through your participation in the QuiAri Compensation Plan.
Recommended Distributors QuiAri