QuiAri Opens Office In The Philippines
February 7, 2020
By Team Business For Home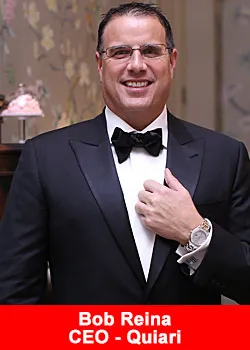 According to an QuiAri press release:
QuiAri's immensely popular 90-Day Kickstart Challenge has taken the health and wellness industry by storm. Word has spread fast about the Challenge and QuiAri's exclusive products that are helping people lose weight and boost energy levels in as little as 90 days.
CEO and Founder, Bob Reina, has been working day and night to speed up international expansion plans. His hard work is clearly paying off. After just 4 months in business, QuiAri celebrated the grand opening of their first international office in Manilla, Philippines.
"The Kickstart Challenge is really starting to take off internationally. We are shipping huge pallets of product overseas just to keep up with demand. Our Manilla office is the first of many locations we have planned,"
stated QuiAri CEO and Founder, Bob Reina.
Bob has enlisted the help of several international Promoters to help with expansion efforts. QuiAri Promoter Chris Go, a 15-year MLM industry veteran, worked closely with the QuiAri team to help get the Philippines office open for business. Now that the office is open, he will continue to lead the way for further expansion.
"The demand for the Kickstart Challenge throughout Asia is very high. My dream for this office in the next 5 years is to grow the team to over 500,000 people serving not just the Philippines, but Singapore, Malaysia, Hong Kong, Thailand, and Vietnam,"
said QuiAri Promoter, Chris Go.
Chris has lived in Asia his entire life and knows how to best connect with local audiences. For example, promoting in Asia requires a more delicate approach than in the U.S. and Canada.
"Many Asians prefer more intimate one-on-one meetings and seminars. They want to learn about the products and opportunity from an actual person instead of from a screen. I think having an office in the region will help make the Promoters and products more accessible, which opens the door to more opportunity for QuiAri to expand,"
said Chris Go.
Chris predicts the QuiAri opportunity will be a real game-changer for Asia as the business grows. QuiAri provides a unique opportunity to achieve both health and wealth that people desperately need. In remote areas of Asia where jobs are scarce, the QuiAri opportunity can significantly impact the economy of entire villages. Especially when you consider QuiAri's state-of-the-art payment technology.  All Promoters anywhere in the world receive Same Day Pay, that's commissions paid within 5 minutes of each sale.
"This is a big moment in history for QuiAri and for the Philippines. We have much more work to do now that the office is open, but I'm very excited and honored to be part of the QuiAri team,"
said Chris Go.
About QuiAri
QuiAri provides life-changing opportunities that empower people to feel their best so they can live their best. Their breakthrough health and wellness products are made from an exclusive extract of the maqui berry, the world's new number 1 superfruit. Plus, QuiAri offers opportunities to receive Same Day Pay just by sharing their products with others. Try. Love. Share!
To learn more about QuiAri, or to get in touch with a Promoter, visit QuiAri.com.
These statements have not been evaluated by the Food and Drug Administration. These products are not intended to diagnose, treat, cure or prevent any disease.
Income Disclosure Statement
Please note the QuiAri business opportunity offers unlimited income potential. However, QuiAri makes no guarantee of financial success. Success with QuiAri results only from successful sales efforts, which require hard work, diligence, skill, persistence, competence, and leadership. Your income will depend upon how well you exercise these qualities.
 As QuiAri is in its first year of business operations, we do not have sufficient statistical data to prepare complete, first-year income disclosures. A more detailed survey will be conducted after our first year of business. If income projections were presented to you prior to your enrollment, such projections are not representative of the income, if any, that you can or will earn through your participation in the QuiAri Compensation Plan.
Recommended Distributors QuiAri