Vyvo Signs $88 Million Letter Of Intent With Helo Corp
February 2, 2020
By Team Business For Home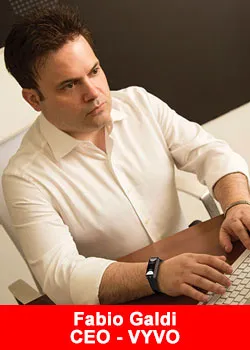 Vyvo Inc., a leading technology and network marketing company using technology to create innovative solutions for personal health and economic wellbeing, today announced that it has signed a Letter of Intent effective 31st January, 2020, with a US public listed company, Helo Corp. confirming its $88 million acquisition of certain strategic assets from Vyvo Inc. so that it can bring the VYVO business into a public company.
Fabio Galdi, CEO of VYVO said, "We are extremely excited for the future at Vyvo.
As a public company we will have the unique ability to tell our story and access capital in a much more efficient manner. It is an exciting time for us as we will have the technology and expertise all in-house to make a big impact on the $192B global direct selling market.
We hope to lead the way in changing how the financial market views direct selling business model by combining our proven technology with Artificial Intelligence (AI) and producing a stream of next generation products that will improve our customer's wellness."
He continued,
"We are delighted with this agreement as it allows us to tie in and consolidate all of Vyvo's key activities under one company.  The synergies are enormous. From a technology perspective, we can optimise the integration of AI into the Helo Corp.'s Life Sensing Technology so that we can produce more exciting, customized products that will bring significant and tangible wellness  benefits to our customers.
Also, our members will benefit financially from this agreement. It gives us the ability to open up new markets in USA , Asia, Europe and Russia,  which will generate customer referral commissions for our existing and new members."
Mr Galdi also confirmed that Helo Corp. will continue to operate under the HLOC ticker until it can change its name to VYVO and update its ticker symbol."
The CEO of Helo Corp., Seán McVeigh, said that,
"This transaction, which includes the acquisition of assets such as intellectual property, network software, strategic supplier and distribution contracts, should enable us to quickly transition into the VYVO business and also improve our balance sheet. 
We expect that this agreement will significantly increase our sales revenues as we will capture more of the customer transaction value when customers purchase our wearable devices, and we will also secure additional sales revenues from new products and services."
Closing of the transaction is subject to the executive of definitive agreements on acceptable terms.
Upon closing, Fabio Galdi will be appointed CEO, Alessandro Senatore will be appointed COO and Seán McVeigh will continue as CFO of Helo Corp.
About Vyvo Inc
We are a technology and network marketing company, using technology to create innovative solutions for the personalized health and wellness market worldwide. We are focused on developing consumer-oriented products that protect, monitor and empower people to improve their health through daily knowledge and informed choices. We create customized solutions to help our customers manage their most important asset, themselves and their life.
Our technology driven mission matches our network marketing soul. We are all about expanding concepts of personal growth and development, not only focusing on health but also on prosperity and economic wellbeing. For more information, please see www.vyvo.com
About Helo
We are a technology company that provides wearable devices for use in the quantified-self wellness market. Our wearable devices and related applications provide our end-users with health related knowledge acquired through self-tracking.
Our Life Sensing Technology uses state-of-the-art sensors, enhanced signal processing and algorithms to collect and process specific data from end-users; and it is embedded into Helo, our branded wearable devices that are designed, produced and sold into the wellness market through our marketing and distribution partner, Vyvo Pte. Ltd. and its distribution network.  For more information, see www.helocorp.com.