ENHANZZ Global Introduces WOO Nutrition
March 27, 2020
By Team Business For Home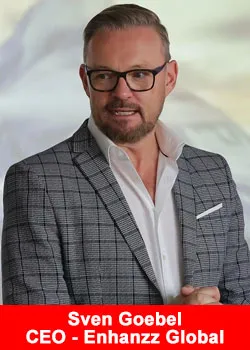 Next to the successful Swiss Skin Care Brand Hanzz+Heidii, the Swiss-based direct sales company ENHANZZ Global has started to roll out a stellar holistic nutrition line called WOObyEnhanzz.
While Hanzz+Heidii has been self-developed by the Enhanzz Team, WOO has been developed by a befriended team of experts, with decades of experience in the health and nutrition field. Originally planned for this summer, Enhanzz Global's Brand Partners exclusively distribute the WOO products throughout the EU, with other parts of the world to follow. Already, WOO products are used by many world-class athletes with excellent results.
CEO Sven Goebel stated:
"We have known our partners for many years and there is a high level of trust and understanding. The product line is unparalleled to anything I have seen in the nutrition field so far. Never ever we could have done that in-house ourselves, as we have done with our world-class skincare.
Not only are the WOO products highly effective and based on the latest research, but they all also taste extremely good and the brand itself is very hip – a great fit for our dynamic, young company. Together, over time, we will now take it to the very next level and co-develop it into a market-leading brand. The feedback we have so far from our initial test groups is far exceeding our expectations and we can't wait to launch shortly.
That said, we lately have also put us under some pressure regarding the Corona situation in Europe: Knowing you have some of the best products in the world for boosting ones immune system and providing an excellent diet while running a powerful and well-educated, constantly growing sales-force with thousands of talented brand partners who love selling, doesn't make it easy for us to plan properly. We now need the products in the marketplace rather sooner than later."
As a consequence, an initial product range is currently being rolled out throughout DACH and the rest of Europe. The retail shop for customers is being programmed and functional as of today with personalized links for the brand partners. The WOO product line is fully e-commerce enabled.
Our goal is to help educate people to monitor their health even better. This can only be done if the products work, are reasonably priced, taste delicious and create an experience when taking them. At this point, you won't find any capsules in white plastic bottles within the range, as everyone has that and we wanted to get rid of that stigma. The way we deliver the products to the body needs to be pleasant, delicious and fun, enriching in experience and with noticeable effectiveness."
What's remarkable: WOO already runs its brand new, super-hip WOO Loft Resort in the heart of Switzerland with modern, chalet-style apartments, tremendous views as well as an outdoor pool and a fantastic ski arena in the valley. Hopefully soon again, ENHANZZ Global's Brand Partners will be able to take advantage of this cozy place for incentives and team trips, collecting fantastic experiences while building their teams and manifesting their culture.
Currently, the company is picking up massive momentum. While they recently reported a 40% growth since December month after month, sales in March could now even double compared to the previous month.
About HANZZ+HEIDII
The exclusive HANZZ+HEIDII natural vegan skincare line for "HIM" and "HER", is a cutting edge, active symbiosis between nature and biotechnology, including its proprietary "Magic Swiss Code" formula, and its "Made Without" referring to its commitment that all products are non-animal tested and free of any harmful irritants and additives.
Currently, there are 9 products available for "HER" including a cleanser, serum and day/night cream; 4 for "HIM" also featuring a cleanser and serum  plus 1 unisex facial mask. For more information please visit www.hanzzandheidii.com,  www.enhanzz.com and www.woobyenhanzz.com