Carl Humphrey Triple Black Diamond Rank At Rain International
May 11, 2020
By Team Business For Home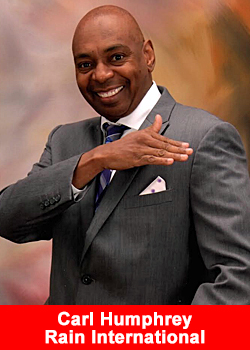 Carl Humphrey, resides in Midland, Texas, USA, in seven years at Rain International, has been able to build a team that's as big and lively as his charisma.
It only took him three years, as a part-time Rain Partner, to hit the coveted rank of Triple Black Rain Diamond. This accomplishment is not only impressive, but incredibly rare in network marketing.
Rain's opportunity presented itself to him while he was working in the oil and gas industry. It was the combination of health and wellness, along with the opportunity to stimulate his income that caught his eye. Since then, he's set himself on a new path, one that refuses to look to the left or to the right, "only fast forward."
Byron Belka, CEO and Founder of Rain International, said this of Carl Humphrey:
"Carl has always been a dedicated figure in our Rain Family. His excitement for the work, for the health we provide, for the opportunities we offer, is contagious, and even pushes us as an executive team to be better. It's Partners like Carl who are the lifeblood of this company, and it's Partners like Carl who have the power to bring out the best in those on his team."
Carl Humphrey provides a picture-perfect example of why this industry is so incredible: he's a man who came from humble beginnings, who only started sharing Rain as a part-time gig, but whose dedication and work ethic created a powerful success story. Now, Rain is his full-time project and he's dedicated to mentoring 20, new Triple Black Rain Diamonds.
When speaking to Carl of his accomplishments at Rain International, he said:
"I have to thank my sponsor, my partner, each and every one of my team members, and my family for helping me make this happen. Without them, I couldn't have achieved what I have here at Rain."
Carl also mentioned the support of Rain's Executive team, especially while he was growing his team in the early stages:
"I tell everyone this, and no-one ever believes me: the Rain Executive Team, guys like Byron Belka, Casey Whitaker, and Russ Cowley, would be on the phone with me until midnight on weeknights and weekends, training, coaching, and helping. I have never seen that kind of dedication from an executive team in all my years of networking."
This small peek into the culture of Rain International is not only inspiring, but truly explains why they continue to grow as a company: their love for and dedication towards their Rain Partners is tangible, and fuels everything they do.
About Rain International
Rain International is the original creator of seed-based nutrition. Our experts have gone to the source of plant nutrition to formulate products proven to support healthy lives.
Rain International is more than the products we sell. From the beginning, we set out to make changes to improve the world around us starting with the health industry and moving beyond its borders into global sustainability, education initiatives, elevated lifestyles, and more. We believe that the ultimate human experience we all crave is within everyone's reach, and we don't mind leading the way. For more info please visit www.rainintl.com.
Recommended Distributors Rain International